Government members stressed the importance of the fight against corruption and waste in the country's effort to improve its national budget during the Government monthly meeting held yesterday in Ha Noi.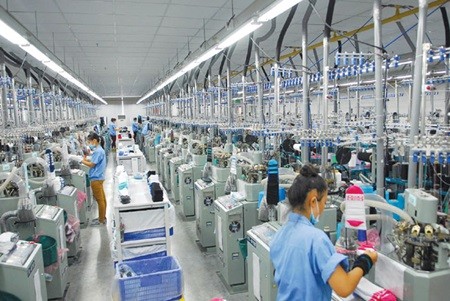 A production chain at the JASAN Viet Nam Company in the Viet Nam-Singapore Industrial Park in Hai Phong Province. The country has made positive economic movements in 2015 including the recovery of the tourism industry and increased production across the manufacturing and agricultural sectors. (Photo: VNA/VNS)
Prime Minister Nguyen Tan Dung urged members of Government to strictly follow expense regulations, especially during official and business trips abroad as well as the celebrations, which were typically held by Government offices towards the end of the year.
He said that Government agencies must step up efforts to collect some 70 trillion dong (US$3.08 billion) of debt to the country's budget and severely punish those who deliberately delayed or cheated their way out of paying taxes and other fees.
In spite of various positive economic signs in 2015 such as the recovery of the tourism industry and increased production across manufacturing and agricultural sectors the country still faced a complex set of challenges including falling prices for agricultural products and export figures.
The PM called on Government agencies to support businesses, especially those in agriculture by searching for new markets for Vietnamese products and to encourage the establishment of industries in which Viet Nam holds a competitive advantage.
He urged Government members to continue to push for even stronger administrative reforms and policy making, especially in key sectors such as taxation, customs, insurance and energy, in order to improve the country's business and investment environment. Other items on the meeting's agenda were the country's effort at poverty reduction and new rural building targets, improved social programmes and the task to restructure state-owned businesses in agricultural and forestry sectors.
The Government asked its various agencies and localities across the country to remain vigilant in the fight to combat smuggled goods and counterfeits products.
They were also charged to ensure social order and safety of the public during the upcoming holidays as well as strictly enforcing food safety regulations.
Government members also heard a report by the Ministry of Education and Training on a new structure for the country's general education system, which would allow students greater and earlier access to vocational training programmes and bring the country's education system more in line with international standards.