Son La should capitalize on its agriculture and hydropower industry to achieve sustainable development, according to Prime Minister Nguyen Tan Dung.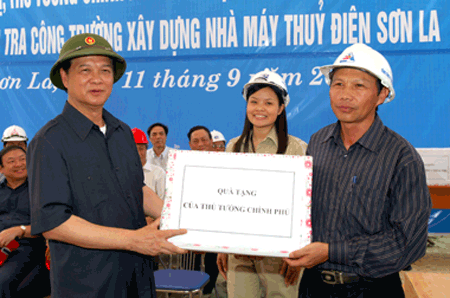 Prime Minister Nguyen Tan Dung (L) offers presents to workers in Son La hydro-electric power plant on September 11. (Photo: VOV)
He advised provincial leaders to this effect during a working session on September 11, as part of his tour of the province, where he inspected the pace of construction of the Son La and Nam Chien hydro-electric power plants and the implementation of a rubber plantation project at It Ong commune.
The PM said Son La should take advantage of its potential in agriculture and forestry to expand the growing of maize, the breeding of cattle and the cultivation of grass, tea and rubber in addition to strengthening its processing industry to produce farm and forestry products for both local consumption and export.
Coupled with that, the province is also urged to focus on making the best use of its available resources for hydropower development. The locality is currently investing in 54 hydropower plants which are expected to generate 3,718 MW.
However, the PM asked Son La province to pay special attention to relocating local people who have given up land for the construction of the Son La hydro-electric power plant and facilitate their resettlement to ensure the plant will run its first turbine group in late 2010. Once completed, the Son La power plant will be the largest in Southeast Asia.
The Government leader also reminded the provincial authorities of the urgency of eliminating poverty in the province's five poorest districts, along with addressing the scourge of drug addiction, to ensure social order and security, and to further strengthen Vietnam's special friendship and all-round cooperation with the northern provinces of Laos.
He instructed relevant ministries and agencies to coordinate with Son La in projects to build boarding schools for ethnic minority children, as well as Na San airport and other infrastructural facilities essential to the province in its course to achieve sustainable growth.
PM Dung praised Son La for posting a GDP growth of 9.11 percent in the first half of this year, quickening the reorganization of its economic structure, developing industries and services, concentrating investment on infrastructure and human resources and building a strong Party and political system despite numerous difficulties and challenges.
Son La still deals with a high poverty rate--33 percent of its households live below the poverty line