Prime Minister Nguyen Xuan Phuc has asked ministries, provincial and city people's committees and relevant offices to strengthen traffic safety works during New Year, Tet (Lunar New Year) and the Spring Festival.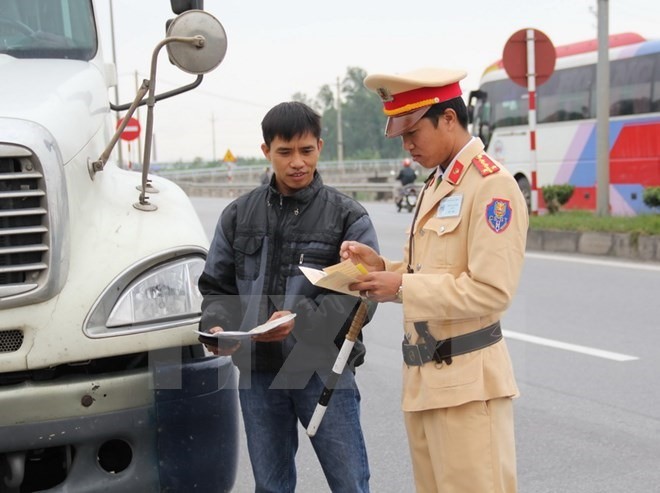 Transport policeman checks driving licence of a bus driver on Highway 10, in the northern province of Thái Bình. — VNA Photo
The PM urged the Transport Ministry to set up detailed plans and measures for organising transport vehicle systems, selling tickets through the internet to serve the best travelling of people.
The transport ministry is responsible for checking publicized ticket prices and penalising illegal ticket price increases and passenger transfers.
The ministry will regulate traffic lanes comfortably and suitably on key and high-vehicle traffic routes, strengthen safety measures at black spots (places with high rates of road accidents) and manage the domestic waterway.
The ministry must ensure security and safety at airports, railway stations, ship and bus stations at tourism sites and festival grounds.
The Ministry of Public Security was asked to strengthen patrolling and penalties for traffic and order violations during the new year holidays.
Policemen will focus on fining violations related to speeding, drunk driving, vehicles driving over capacity, riding motorbikes without wearing helmets and racing motorbikes illegally.
The police force is also asked to take strict measures for preventing illegal transport of flammable and explosive substances and materials.
The ministry will co-ordinate closely with transport inspectors to arrange police force on shifts at key routes and black places on traffic jams.
In addition, the ministry's hotline has been publicised on mass media in order to field traffic punishment complaints from local people.
The Ministry of Information and Communications has been asked to re-enforce dissemination of traffic safety information during holidays.y..
In particular, the people's committees of Hà Nội and HCM City are responsible for setting up plans to organise festivals, regulate traffic lanes and arrange workerforce on shifts at main gates.
HCM City bus services
More public buses will operate in HCM City during Tết to meet the surge in demand during the holidays, officials from the Department of Transport told a conference on Wednesday.
According to the Public Transport Management and Operation Centre, 1,048 trips will be added on 17 routes, while 844 trips will be reduced on other routes where holiday demand is traditionally low.
To prevent congestion at bus terminals, bus will be allowed to depart as soon as they are 50 per cent full.
The number of passengers at Miền Đông Bus Station is expected to increase by 3 per cent year-on-year, with January 22 likely to be the busiest day with 56,000 passengers, Thượng Thanh Hải, deputy director of the station, said.
Lê Hoàng Minh, deputy director of the Department of Transport, urged all bus stations to ensure buses park and pick up and drop off passengers in an organised manner.
His department would co-ordinate with the police to tackle the problem of unlicensed buses operating outside or near bus stations, he said.