In a conference held yesterday to review the country's traffic situation in the first six months of 2007, Prime Minister (PM) Nguyen Tan Dung stressed that ensuring traffic safety and order must be considered a task of utmost importance for the country.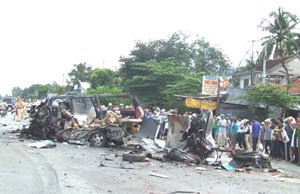 An accident in Khanh Hoa province causing 12 deaths.
In the conference, PM Dung also gave out four solutions to improve traffic safety and order and to reduce the frequency of accidents in the country.

Firstly, PM Dung required the improving of the public's awareness of traffic safety and order which can only be achieved through cooperation among the country's corporations, organizations and individuals.

Secondly, the Government needs to improve the work of inspection and handling violations of traffic safety and order, and appropriate punishments need to be fully implemented especially in cases such as driving without a license or in a drunken state.

Thirdly, relevant officials are expected to regularly keep a close watch on areas with a high frequency of accidents and help guarantee safe distances between vehicles.

Lastly, PM Dung also asked that the Government pay more attention to the maintenance and upgrading of the current transportation infrastructure. A balanced, unified transportation network will help improve the work of accident prevention.

According to the National Committee for Traffic Safety's recent statistics, during the first six months of 2007, there were 7,600 traffic accidents (an increase of 68 cases compared to the same period last year) causing a total of 7,000 deaths and injuries to 6,000 others. 

Most accidents are caused by violations of traffic laws including illegal racing (especially motorbike racing), careless driving, and driving in a drunken state.

Traffic accidents are big threats not only to the life and health of people but also to the property of individuals, organizations and the State. Therefore, the Ministry of Transport and the Police Ministry are rushing to establish a complete set of traffic laws to help enhance the work of ensuring traffic safety and order. 

The conference was held yesterday by the Government Office and the National Committee for Traffic Safety.