Prime Minister Nguyen Tan Dung asked the law enforcement agencies to speed up the handling of corrupt cases, admitting that they are time consuming so to make the corruption fight less efficient in preventing the scourge and spark doubts in the public.

PM Dung made the comment during the 14 th session of the Anti-corruption Central Steering Committee in Hanoi on April 6 to review the fight against corruption in the first quarter of the year and provide guidelines for the efforts in the second quarter.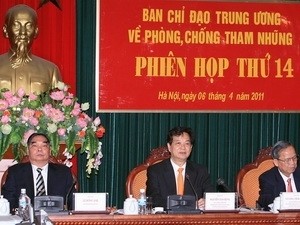 Prime Minister Nguyen Tan Dung (C) at the meeting (Photo: Vietnam News Agency)
As the Committee Head, the PM affirmed that the fight against corruption reaped good results in many areas, contributing to the country's socio-economic achievements over the past time as well as the success of the 11 th National Party congress.
He asserted that the detection and handling of a number of serious corruption cases have helped consolidate the people's confidence in the Party and State's policies and guidelines.
"Corruption and waste have been put under control step by step," PM Dung said.
To promote these outcomes, he asked the Committee's members to continue perfecting institutions mandating the fight against corruption, especially in the fields of land management, major construction investment, the management of capital and estate in State enterprises, and the use of State budget.
Dealing with the settlement of debt crisis at the Vietnam Shipbuilding Industry Group (Vinashin), the PM asked the Ministry of Public Security to make clear deliberate violations and promptly investigate signs of corruption found in the group.
Chief of the Office of the Anti-Corruption Central Steering Committee Vu Tien Chien reported that in the first two months of this year, the Government inspectors uncovered the misuse of more than 426 billion VND and 1,427 hectares of land.
Also at that time, the law enforcement agencies prosecuted 28 cases with 55 defendants in charges of corruption, down 10 percent in terms of the number of cases and up 12 percent in terms of the number of defendants over the same period last year.
According to Chien, the Central Committee has set to accomplish the handling of four time-consuming cases of corruption, including the one involved the illegal establishment of funds at the Song Hau farm, in the second quarter of this year. These are among the 11 cases that were in the focus of the Committee's first-quarter programme.