Prime Minister Nguyen Tan Dung has asked the transport sector to focus resources on infrastructure development and cut traffic accidents, especially in major cities, in 2012, which is called Traffic Safety Year.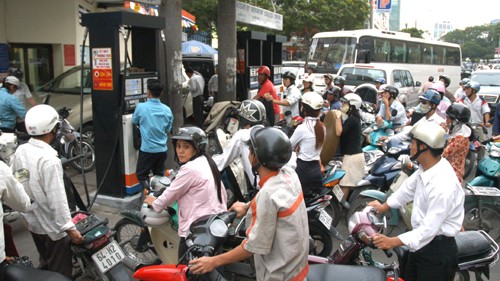 (File) An undated file photo shows motorcycles at a petrol station in Vietnam
Addressing a year review conference held by the Ministry of Transport in Hanoi Saturday, the Government leader asked the sector to focus on developing a transport system in a modern and economic manner.

He also asked the sector to take synchronous measures to reduce traffic accidents and congestion, especially in major cities. As this year is dubbed as Traffic Safety Year 2012, the sector needs to beat the target of reducing between 5 and 10 percent of traffic accidents, he said.
As for infrastructure, the PM asked the ministry to build mechanisms to focus resources on expanding the country's backbone road National Highway 1, and some degrading highways and expressways linking Hanoi and Lao Cai, Hanoi and Hai Phong, Hanoi and Thai Nguyen and Lach Huyen Port.
At the conference, the PM presented an Independence Order of Class Two to former Transport Minister Ho Nghia Dung, Independence Order of Class Three to Transport Deputy Minister Ngo Thinh Duc and Labor Orders to some collectives and individuals in the sector.