Prime Minister Nguyen Xuan Phuc has instructed ministries and agencies to mobilise all forces and resources to ensure safety and food for residents in flood-hit areas and minimise losses of human lives and property.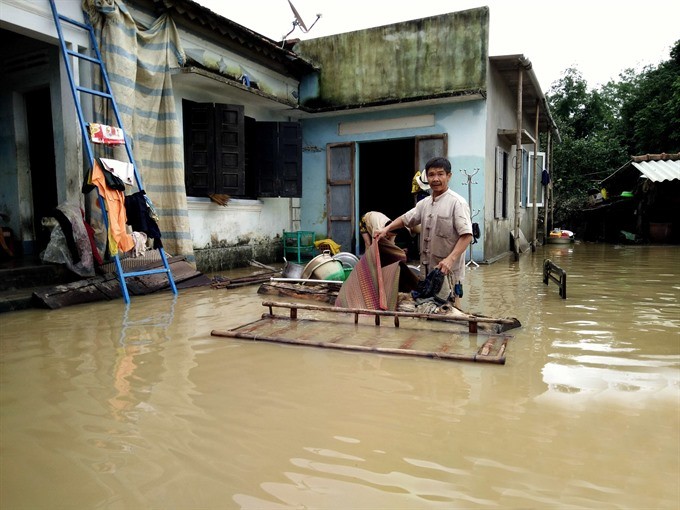 People in An Nhon commune in the south central province of Binh Dinh clean their houses as flood waters recede.
"Food and supplies must be brought at any cost to residential areas submerged by flood water or isolated," he said while chairing an online meeting on Saturday on measures to deal with devastating floods that have affected central provinces from Thừa Thiên-Huế to Khánh Hòa.
The PM also urged local authorities to quickly evacuate residents from areas at high risk of flash flooding and landslides. He ordered them to also ensure safe operation of hydropower and irrigation reservoirs. The localities were asked to prepare forces and resources to restore houses to habitable states and clean up the environment to prevent epidemics.
For the long term, the PM directed the Ministry of Agriculture and Rural Development to co-ordinate with ministries and localities, assess the flood vulnerability in the central and Central Highlands regions, which will serve as a reference to implement solutions.
Official statistics show that heavy rain and flood from December 12 to 16 left 17 people dead and two missing, destroying more than 130 houses, inundating nearly 112,000 others. Over 10,000 hectares of rice fields and many infrastructure and transportation works were damaged.
According to Ho Quoc Dung, Chairman of the People's Committee of Bình Định, the the south central province was among the hardest hit localities, with 31 deaths so far this year, along with 348 houses totally destroyed. He asked for emergency Government aid in the form of food, medicine, school textbooks, along with financial support to handle the aftermath of the flooding.
Flood-hit localities have proposed that the Government provide urgent aid of 5,850 tonnes of rice, 8 tonnes of water purification tablets, 325 tonnes of rice, maize and vegetable seeds, along with over VNĐ1.3 trillion (US$58.2 million) to restore farming, transport and irrigation infrastructure.
They have also estimated the need for 58 tonnes of chemicals, over 55,000 litres of disinfectant, 180,000 water purification tablets, 300 medicine units and 80,000 vaccines against foot-and-mouth disease.