Prime Minister Nguyen Xuan Phuc appreciated restructuring achievements by Vietnam Posts and Telecommunications Group (VNPT) for the last two years and urged it to build an equitization project in the phase of 2016-2020 at a meeting with the group's leaders and employees yesterday.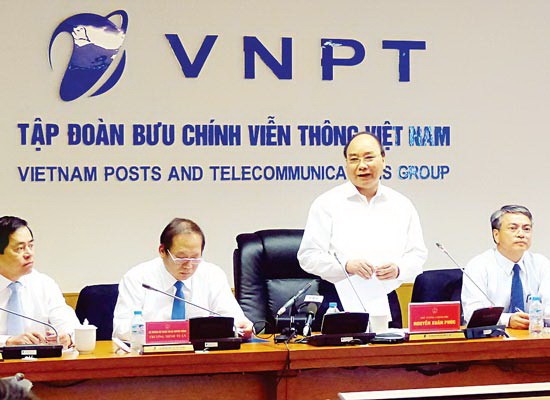 PM Nguyen Xuan Phuc states at the meeting with VNPT (Photo: SGGP)
The project aims to attract resources for administration reform, production and trading efficiency and upholding of VNPT role as the key enterprise of the country's telecommunications and IT industries.


In the upcoming time, VNPT must focus on developing mobile telecom network and VNPT brand name to meet international standards and overseas markets; having specific measures to yield higher profit, better use state capital and well implement assigned missions.


VNPT needs to promote supply of IT service and products and positively attend in building the E-Goverment project chaired by the Government Office.


VNPT has basically completed its tasks in the PM's restructuring decision, said Mr. Phuc. He prompted the group to soon fulfill remaining tasks including issue of a set of regulations on financial group as well as organization and operation of subsidiaries, and non-core investment capital withdrawal.


In addition, the group should submit to the Government a production and trading strategy and plan in the phase of 2016-2020, focusing on choosing advanced technologies and investment in highly efficient fields. It is also required to effort to have VNPT telecom industry products.


Reporting to Mr. Phuc, chairman of VNPT member council Tran Manh Hung said that for the last two years, the group had conducted comprehensive restructuring of production and trading activities in telecom, IT and communication fields.


The group contributed VND34.23 trillion (US$1.54 billion) accounting for 111 percent of plan during the phase of 2011-2015 when growth rate averaged 4 percent a year. The rate was 17.6 percent a year during 2013-2015.


He appreciated VNPT restructuring achievements, drastic reform steps in business administration and management and cadre works.  The group's human resource quality, trading effeciency and competitiveness has been improved.


During the meeting, Mr. Phuc together with leaders of ministries and agencies attended a ceremony to launch VinaPhone-S mobile satellite service covering 100 percent of Vietnamese territory and two-thirds of the world.


With the new service, communication will be fluent and no longer depend on infrastructure and weather conditions, transnational communication cost will reduce to half of current satellite telephone service's fee.