Prime Minister Nguyen Tan Dung has appealed for more policymaking suggestions and resources support from foreign donors in a bid to realise national goals in the coming time.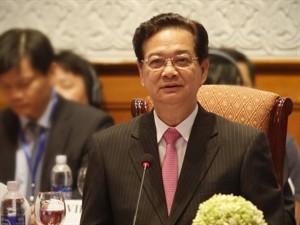 PM Nguyen Tan Dung at the Vietnam Development Partnership Forum (Source: VNA)
He made the call at the Vietnam Development Partnership Forum in Hanoi on December 5, noting that the National Assembly has adopted the revised Constitution and several key laws at its just-concluded session, laying ground for more legal regulations to create a competitive environment with the active involvement of the public and business circle.
In addition, Vietnam is conducting negotiations on six free trade agreements with top global and economies worldwide that are expected to be completed in 2014-2015, he said.
Informing guests of national socio-economic performance and tasks for next years, PM Dung said Vietnam and foreign donors have successfully held the annual Consultative Group of Donors (CG) meetings over the past 20 years.
The leader noted that from an underdeveloped country in the 1990s, Vietnam has become a middle-income nation and basically achieved several millennium development goals and recorded some successes in poverty reduction.
According to him, it is a joint achievement of Vietnam and international donors thanks to perseverance and effective bilateral cooperation over the past two decades.
This year, Vietnam now holds the first forum in replacement of the CG meeting, reflecting a shift in its status from an aid recipient to a development partner, PM Dung said.
Themed "Establishing a New Partnership: Looking Towards Competitiveness, Comprehensive and Sustainable Growth", this year's event attracted around 300 delegates from 20 ministries, agencies and localities as well as international and non-Governmental organisations.
Co-chaired by Minister of Planning and Investment Bui Quang Vinh and World Bank Country Director in Vietnam Victoria Kwakwa, the forum will focus its discussions on poverty reduction in ethnic community, private sector's involvement in clean water supplies and hygiene, better efficiency in environmental management system, and competitiveness via skill improvement and vocational training.