Vietnam is ready to share experience and work closely with Cambodia to help the neighbouring country fulfill its role as ASEAN Chair in 2012, Vietnamese Prime Minister Nguyen Tan Dung said Wednesday.
He made the statement during a meeting with his Cambodian counterpart Hun Sen in Indonesia's Bali on Nov. 16, after the Vietnamese PM arrived for the 19th ASEAN Summit and related summits taking place there from Nov. 17-19.
At the meeting, the two PMs said they were pleased to see that the comprehensive cooperation between the countries is expanding, and becoming more efficient and practical, particularly in economics, trade and investment.
Agreements of the two countries' senior leaders are being carried out in various areas, they said.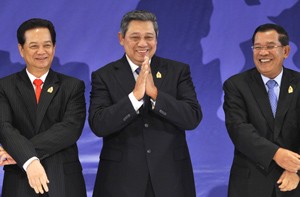 AFP – Indonesia's President Susilo Bambang Yudhoyono (C) flanked by Vietnam's Prime Minister Nguyen Tan Dung (L) and Cambodia's Prime Minister Hun Sen (R) gestures during a group photo session with ASEAN leaders during the opening of the 19th ASEAN Summit in Bali on November 17, 2011.
ASEAN is the Association of Southeast Asian Nations.