Prime Minister Nguyen Xuan Phuc leading a Government mission visited the shrimp processing plant of Minh Phu Group, one of Vietnam's leading seafood export companies, in the southernmost province of Ca Mau yesterday afternoon.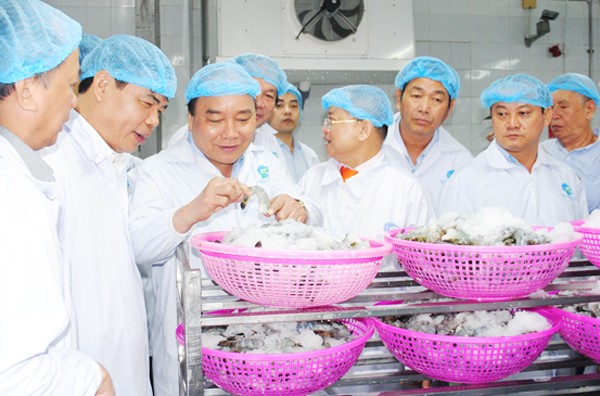 Prime Minister Nguyen Xuan Phuc (L, 3rd) visits Minh Phu shrimp processing plant in Ca Mau province on February 5 (Photo: SGGP)
Director general and chairman of the group's board of directors Le Van Quang reported to the PM that the group obtained the total export turnover of US$535 million last year and strives to reach $700 million this year.
At present, workers' income averages VND6.5 million ($287) a month. The group has provided jobs for 14,000 people including 7,000 workers from Ca Mau province.
Minh Phu Group has established value chains and developed eco shrimp farming models for sustainable development. In addition, it has connected with seafood breeders to establish "social businesses" to assist farmers in shrimp origin tracking and environmental protection. Breeders attending these businesses have sold their products at a level 10-30 percent higher than the price in the market.
The group intended to expand production and trading and build more plants, hoping to receive policy assistances rather than tax incentives because good policies would help bring the provincial shrimp export turnover up to $10 billion by 2026, including $2 billion from Minh Phu, Mr. Quang said.
Prime Minister Nguyen Xuan Phuc appreciated the group's achievements, especially local employment supply, and development directions in the upcoming time.
The Government advocates environmentally friendly farming models by the group and hopes the company to further contributions to the seafood industry, according to Mr. Phuc.