The Prime Minister has urged ministries and relevant agencies to strongly implement decentralization in managing key State-invested projects by granting more authority to investment decision makers and project owners.
Speaking at a conference on July 22 in Ha Noi on the investment plans with the Government's capital, PM Nguyen Tan Dung asked the ministries and agencies to put forth measures to overcome difficulties and accelerate the implementation of key projects planned for this year.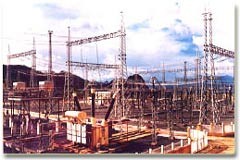 Power facilities are among key projects in Viet Nam.
He required concentration on management and amending decrees to make them appropriate for the integration process and the market mechanism, and on creating consensus coordination among the ministries.

Pointing out a typical problem, Mr. Dung said while projects are still waiting for a license, site clearance is not allowed; but no land is available after the license is granted.
The Government leader stressed the need to revise decrees 16 and 17 and to issue regulations on site clearance and resettlement of affected people, in which local authorities are responsible for site clearance work and investors must ensure enough capital.
According to the Ministry of Planning and Investment, the total investment implemented in the first six months of this year was estimated at VND39,5 trillion (about US$2.43 billion), making up 48% of this year's plan and increasing by 23% year on year. State investment alone reached almost VND36 trillion (US$2.25 billion), accounting for 47.6% of the plan.