Prime Minister Nguyen Xuan Phuc yesterday urged ASEAN countries to take measures to facilitate cross-border trade and investment, while warning against the re-emergence of protectionism.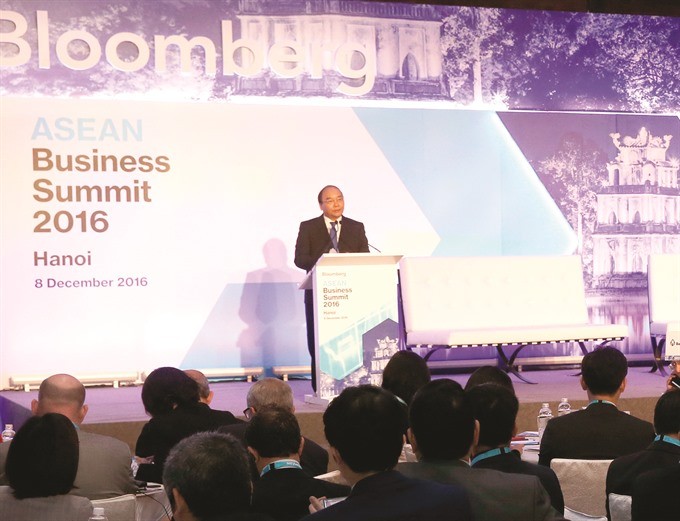 PM Nguyen Xuan Phuc addressing the Bloomberg ASEAN Business Summit 2016 in Hanoi yesterday. (Photo: VNA/VNS)
Speaking at the Bloomberg ASEAN Business Summit 2016, he said the world and ASEAN region are facing serious challenges in security, economy, food, climate change and protectionism.
However, the fourth industrial revolution has also presented great opportunities for development, the PM said.
He called for ASEAN member nations to foster economic connections and transport infrastructure development in order to facilitate trade and investment flows and cross-border services and thus build a united and efficient ASEAN market.
Member economies will not be able to boost development if they only rely on the exploitation of natural resources and unskilled labor, the PM said. "The ASEAN business community is the momentum for economic linkages, creating a new impetus for trade and investment development within the bloc," he added.
ASEAN nations need to promote innovation and creativeness, improve their competiveness, and engage more in the global supply in order to achieve higher added values, he stressed.
For its part, Vietnam is joining ASEAN efforts to further strengthen and deepen the intra-bloc co-operation, Mr. Phuc said, noting the centre role of ASEAN in Asia.
While expressing hope that outside investors will seek win-win co-operation opportunities with ASEAN partners, he affirmed that the Vietnamese Government is working hard to improve the investment and business climate and welcomes all enterprises from ASEAN and other regions.
Vietnam currently has 600,000 active businesses, aiming to have over one million in 2020. It has also signed 12 free trade agreements (FTA), paving the way for cooperation with 55 large national partners, including with the G7 and 15 countries of the G20.
Optimistic future
Mr. Pham Van Thinh, CEO of Deloitte Vietnam, said Vietnam would continue integrating and opening its market by conducting bilateral trade negotiations with other countries.
"Without TPP, we still have other bilateral and multilateral deals," he stressed while talking about the effect of the 12-nation Trans-Pacific Partnership, which is on the verge of being cancelled.
Roger Lee, Chief Executive Officer of TAL Group which focuses its business on supplying textile and apparel products, said it was unclear what President-elect Trump would do.
Trump said that he would bring jobs back to American people but that will be hard, Lee was quoted by cafef.vn as saying at a panel session on whether the re-emergence of global protectionism thwarted FDI increases and intra-ASEAN trade.
Lee affirmed that Vietnam would be the next investment destination of his group even without TPP, as the country is creating many favorable conditions for foreign investors.
Bangkok Bank President Chartsiri Sophonpanich is also not pessimistic about Trump's pledge to upend the US trade policy. He said he believed that the ASEAN Economic Community would bring a lot of benefits to enterprises of member countries.
ASEAN, comprising Vietnam, Thailand, Singapore, the Philippines, Myanmar, Malaysia, Laos, Indonesia, Cambodia and Brunei, forms a consumption market of 600 million people and a GDP of nearly US$3 trillion a year.