Prime Minister Nguyen Tan Dung received visiting Albanian Deputy Prime Minister and Foreign Minister Edmond Haxhinasto in Hanoi on Nov. 24.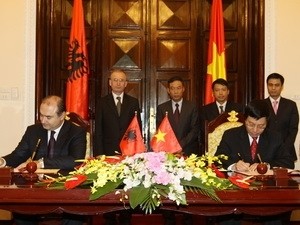 The signing ceremony of Protocol between the two sides ( Source: VNA)
PM Dung spoke highly of the results of the talks between Deputy PM and FM Haxhinasto and Vietnamese FM Pham Binh Minh, saying that Haxhinasto's visit will open a new page in increasing and consolidating bilateral relations on the basis of each country's strength.
On the basis of traditional fine relations, PM Dung suggested the two nations support each other in international forums, especially at the UN forum, and enhance delegation exchanges and people-to-people meetings.
He also suggested the two countries continue to promote economic, trade and investment cooperation and advance to sign agreements on investment protection and double taxation avoidance, and increase education cooperation.
Deputy PM and FM Edmond Haxhinasto informed his host of the results of his talks with FM Pham Binh Minh.
The two sides agreed to complete the legal basis for economic and trade activities, intensify business delegation exchanges, organise business forums, set up ties between the two countries' Chambers of Commerce and Industry and cooperate in education and training.
He said the signing of the protocol on cooperation between the two foreign ministries will contribute to boosting bilateral cooperation in all fields, especially in economics and education and training.
Speaking highly of Vietnam 's role in its tenure as non-permanent member of the UN Security Council, Edmond Haxhinasto said he hopes the two countries will continue to collaborate at international and regional forums.
Earlier the same day, Deputy PM and FM Edmond Haxhinasto held talks with FM Pham Binh Minh.
Minister Minh affirmed that while pursuing a foreign policy of independence, self-reliance and international integration, Vietnam always attaches importance to strengthening and developing friendship and cooperation with traditional friends, including Albania .
Minister Haxhinasto spoke highly of great achievements Vietnam has reaped during its modernisation process. He affirmed that Albania wants to expand and strengthen traditional relations with Vietnam .
Having concluded that bilateral economic and trade ties remain modest, the two ministers discussed and reached consensus on a number of measures to further promote cooperation between Vietnam and Albania in the near future.
Deputy FM and FM Haxhinasto and FM Pham Binh Minh signed a protocol on cooperation between the two Foreign Ministries.