Prime Minister Nguyen Tan Dung held a reception for chief representatives from United Nations organizations in Vietnam to mark UN Day on October 24.
On behalf of the Government of Vietnam, PM Dung congratulated the representatives and experts from the UN organizations and sent best regards to UN Secretary General Ban Ki Moon.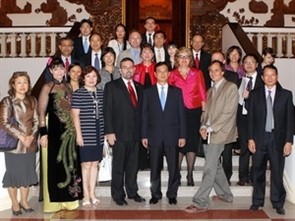 Prime Minister Nguyen Tan Dung (3rd, R, 1st line) poses picture with chief representatives from United Nations organizations in Vietnam
The PM highlighted the UN's role in the international community including promoting peace, reducing conflicts, cooperating for mutual development and coping with climate change.
Mr Dung also spoke highly of the UN's active cooperation and assistance in Vietnam's development. Regarding some orientations and breakthroughs in Vietnam's socio-economic development strategy, The PM said he hopes the UN will continue cooperating with Vietnam through consulting on policy making, technical assistance and developing human resources to ensure social welfare and security, reduce poverty, improve education, and protect the environment.
UN Resident Co-ordinator in Vietnam, Eamonn Murphy, underlined the country's achievements in socio-economic development and poverty reduction in the context of the global economic downturn, as well as its great efforts to fulfill the Millennium Development Goals. He affirmed that the UN wanted to closely cooperate with Vietnam, especially in creating a new and sustainable growth model, improving the efficiency of public investment, developing education and training, and helping Vietnam cope with climate change.