Prime Minister Nguyen Tan Dung wrapped up his official visit to Denmark September 17 after several meetings with government and industry leaders, both Danish and Vietnamese.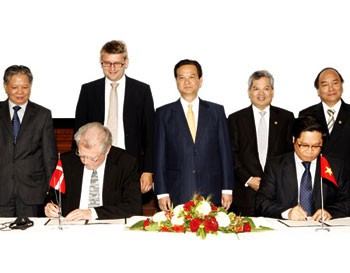 PM Nguyen Tan Dung (center) witnesses the signing of an agreement between the Vietnam Chamber of Commerce and Industry and the Confederation of Danish Industries in Copenhagen on September 17 (Photo: VNA)
During talks with the chiefs of major Danish companies in Copenhagen, he cited the fact that the two countries have already signed agreements on investment promotion and protection, double taxation avoidance, as well as aviation, economic, scientific, and industrial cooperation, and been working to create legal avenues to facilitate bilateral cooperation.
As a result, bilateral trade has risen 15-20 percent a year in recent years to hit US$318 million in 2008 and Denmark has invested $500 million in 74 projects in Vietnam, he said.
He and PM Lars Lokke Rasmussen reached a meeting of minds on directions for the future as well as a host of important measures needed to develop bilateral ties and create a partnership for mutual development, he told them.
Both also agreed on giving top priority to economic, trade and investment cooperation, setting their sights on soon achieving trade and Danish direct investment in Vietnam of $1 billion each, the Vietnamese leader said.
He also suggested to the businesspeople to accelerate investment and cooperation in areas Vietnam lags -- like finance, credit, shipping, construction of seaports, clean energy development, information technology, and agriculture.
Major groups like A.P Moller Maersk (shipping firm) and Carlsberg (brewery) said they are eager to expand investment in Vietnam and hoped for the Vietnamese Government's steady support.
Meeting with 200 Vietnamese and Danish businesspeople at the Vietnam-Denmark Business Forum, Mr. Dung hailed the event, saying it would enable entrepreneurs from the two countries to explore investment and cooperation opportunities.
He reiterated his Government's pledge to do whatever it can to facilitate the operations of foreign businesses in Vietnam and expressed optimism that future deals with Denmark and Danish projects in Vietnam would be successful.
He witnessed the signing of an agreement between the Vietnam Chamber of Commerce and Industry and the Confederation of Danish Industry.
Later that day, he received the Minister of Education and for Nordic Cooperation, Bertel Haarder and praised Denmark's advanced education system, saying it was a key factor in Denmark's current status as a leading developed nation.
He called on the two countries to sign a government-level agreement on education and training.
He underscored the need to establish a Denmark-run university in Vietnam that would operate under the auspices of the two governments. This should go hand in hand with integrating the teaching methods of Vietnamese and Danish universities to help Vietnamese students acquire modern education right in Vietnam at an affordable cost.
He asked the Danish minister of education and cooperation to provide more assistance, including granting Ph.D scholarships to Vietnamese students.
Mr. Haarder hailed Mr. Dung's visit to Denmark, saying the two countries' agreements to make education and training a priority area marked a new milestone in their cooperation in the field.
Following the meeting, the Vietnamese Ministry of Education and Training signed a letter of intent with the Danish Ministry of Education and an agreement with Niels Brock Copenhagen Business College.
Mr. Dung made a tour of the Copenhagen Business School, A.P Moller Maersk and Carlsberg companies, and the Vietnamese embassy, and met with the local Vietnamese community.
He left Denmark later that day for Hungary where he is visiting as a guest of Prime Minister Gordon Bajnai.