The cause of food poisoning affecting 300 workers at Taiwanese shoemaker Pou Sung Vietnam, Bau Xeo Industrial Zone, Dong Nai Province, may have been contaminated water, said an official from the province's Preventative Medicine Department.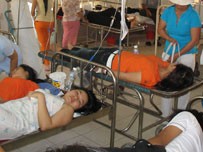 The file photo shows workers from Pousung Vietnam being treated at Trang Bom General Hospital in Dong Nai Province last Friday for food poisoning (Photo: TNO)
Contaminated water has been blamed as some workers had not eaten meals served by the company but did eat instant noodles.
Workers found their rice was stale, smelly and curdled. They were then told to eat instant noodles but they were also bad.
Many came over dizzy, suffered stomach aches and headaches, began vomiting and finally lost consciousness.
By late afternoon on March 22, of 54 poisoned workers hospitalized, 25 have been discharged, with 29 still in serious condition.
They are being treated at the general Thong Nhat Hospital.
Following the poisoning at the company, medical officials from Ho Chi Minh City-based Institute of Hygiene and Public Health are testing food samples from March 20.
Test results will be published next week.