The Ha Tinh Province police are investigating a head-on collision between two passenger vans that left eight people dead and 23 others injured in Ky Anh District on October 4.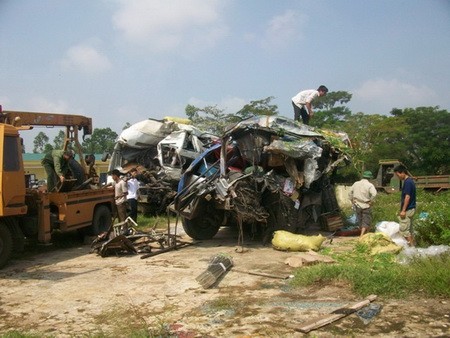 The collision between two passenger vehicles in Ha Tinh Province October 4 killed eight people and injured 23 others, several very seriously.
The deadly accident left Highway 1A blocked for an hour.
Officials said the 23 injured have been taken to hospital, with 18 reportedly having serious injuries to the brain and fractures.
Tran Thi Dinh of Vinh Phuc Province and Hoang Xuan Kinh of Ha Tinh were taken to Hanoi because they have been so badly hurt that they need specialized treatment.
Ha Tinh authorities came to see the victims at the Ha Tinh General Hospital and have supported VND2 million to the families of the deceased and VND1 million to the injured.
Ky Anh District authorities supported VND1 million and VND500,000.
On the same day a truck belonging to Hanoi Transport Service Cooperative No.1 and carrying a car and other goods burst into flames and was completely destroyed. It was traveling on Highway 1A in Quang Ngai Province.
The police are investigating the cause of the mishap.