Police in Nghe An Province prosecuted the owners of Len Co quarry in Yen Thanh District on April 4, for safety violations which caused the quarry collapse, killing 18 people and injuring six others last week.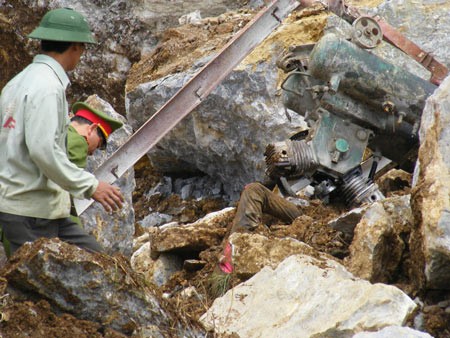 A scene of the quarry collapse in central Nghe An province last Friday.(Photo:SGGP)
According to the investigation, police found that the Chin Men Company was granted a licence to quarry stone from the quarry since 2007.  However, the company was not quarrying stone on it own but had sublet the quarry to a third party.
Although local authorities had warned the company several times, the company continued to violate safety regulations.
Police also said that the quarry was being mined in a technically incorrect method. The stone was being quarried at the foot of the Len Co Mountain, which had led to the quarry collapse.
In March 2011, relevant departments checked the quarry and penalized the company VND4 million for not signing labor contracts with workers and not conforming to labor safety rules.
Earlier, rescuers retrieved the body of the last victim in the Len Co quarry rockslide.
Related article: