The Ministry of Public Security arrested and prosecuted two more men on July 7 for acting against the State based on confessions made by Le Cong Dinh and Tran Huynh Duy Thuc, who were arrested earlier on the same charge.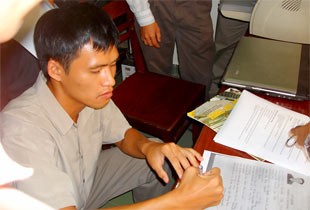 Nguyen Tien Trung puts his signature on documents seized at his home by the police on July 7 (Photo: SGGP)

Nguyen Tien Trung, 26, of Ho Chi Minh City, and Tran Anh Kim, 60, of Thai Binh province, were deputy general secretaries of the so-called Democratic Party of Vietnam based in the US and led by overseas Vietnamese Nguyen Sy Binh.
From 2002 to 2007 Trung studied in France, where he got in touch with a number of seditionists like Nguyen Gia Kieng, Bui Tin, and Vu Thu Hien of the "Rally for Democracy and Pluralism" and "Revolutionary Party for the Reform of Vietnam" (Viet Tan).
On May 8, 2006, Trung and several Vietnamese students in France established a reactionary organization called Viet Youth For Democracy led by him. Its goal was to assemble young people in Vietnam and abroad to subvert the Vietnamese State under the pretext of a changing the political system.
Its tasks are clearly indicated in a blog Trung began in March 2006. The blog also has stories that incite subversive thinking and acts against the State.
Mr.Trung also directly managed the so-called "forum of youth for democracy" on some websites to lure Vietnamese students in France and the US.
In July 2006 he colluded with Nguyen Phuc Tung and Doan Van Linh of the "Office of Associations against Vietnam" to attack the Vietnamese embassy in France using bulldozers as part of a scheme to launch a campaign to collect signatures and trigger action against the Vietnamese State.
During his stay in France, Binh arranged for Trung to travel to the US to meet key leaders of reactionary organizations like Viet Tan, the Len Duong International Vietnamese Youth Network, the Free Vietnam Alliance, and the Committee for Protection of Vietnamese Labors.

On December 25, 2006, Trung applied to join the Democratic Party of Vietnam as Nguyen Trong Nghia. Six months later he was promoted as a member of its so-called Central Committee, deputy head of the foreign Committee and head of the youth affairs committee.
He was later nominated by Binh to the central standing committee and as deputy general secretary in charge of youth affairs.
In August 2007 Trung returned to Vietnam and joined subversives like Hoang Minh Chinh and Tran Anh Kim to set up a secret organization also called the Democratic Party of Vietnam.
They discussed plans to develop it and draw up a constitution and other documents calling for a multiparty system.
He also introduced Tran Huynh Duy Thuc and Le Cong Dinh to Nguyen Sy Binh and induced many other subversives to join reactionary organizations at home and abroad.
During his military service from March 2008 at Gia Dinh Regiment, he sought to contact Nguyen Sy Binh and other individuals to discuss actions against the State.
On July 6 he was dismissed from the army for breaking military discipline -- including not carrying out tasks assigned to him, refusing to read the Oath of Honor of the Vietnamese People's Army, and leaking unit secrets.
The other arrested man, Tran Anh Kim, joined the Democratic Party of Vietnam in March 2006 and was assigned to manage its activities in Thai Binh Province.
Mr Kim published 85 articles against the State on the Internet and provided overseas dissidents distorted information about the country.
He received money and equipment from several overseas reactionary parties, including Viet Tan and Rally for Democracy and Pluralism.
Along with some others, he set up the Anti-Corruption Association to incite people in Ha Noi, HCMC, and Hai Phong to file complaints. He then sent information and photos related to these gatherings to foreign-based subversives.
On June 13, 2009, when Mr. Dinh, general secretary of the Democratic Party of Vietnam, was arrested, Mr. Kim was appointed by Binh as deputy general secretary.
Mr. Kim also joined Bloc 8406 led by another dissident Nguyen Van Ly and he was in charge of north Vietnam.

On July 7 he was arrested while trying to open the Democratic Party of Vietnam's office at his home in Thai Binh province.
Related articles:
Two arrested for activities against Vietnamese State
Lawyer admits actions against State
Lawyer arrested for allegedly acting against State