A police officer and five local residents were wounded when two young men threw a hand-grenade at a police team in Mong Cai Town in the northern province of Quang Ninh.
Captain Do Xuan Truong, deputy head of Mong Cai Police told reporters yesterday (Jan 8) that the criminals Nguyen Van Thang and Tran Phuoc Hung, both 21 and living in the town, had been arrested immediately.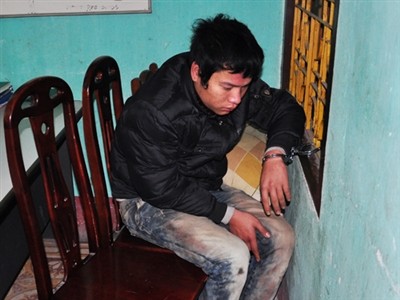 Tran Phuoc Hung at the police station
On the evening of January 7, Hung and Thang went to a karaoke joint owned by Nguyen Thanh Binh, 52, in Hai Hoa Ward and asked the owner for company of some female attendants.
When Binh refused their demand, the two young men abused him and left. A few minutes later they returned with a hand-grenade, and once again asked Binh for girls.
Binh's family called the local police and when the police team arrived, Hung threw the grenade at them.
The grenade exploded, injuring Major Nguyen Van Bien and five other local residents.
The other officers of the team seized Hung and Thang immediately. They have been detained for interrogation and for criminal assault with intent to murder, police said.
The injured were taken to hospital for emergency treatment.
On searching Hung's house, the police seized three explosive devices and four bullets.
The police are continuing their investigation to identify the origin of the weapons.