Police will pursue charges in a case involving seven people accused of causing public disorder at a war vestige site in the central province of Quang Binh.
Major General Hoang Cong Tu, Deputy General Director of the General Security Department under the Ministry of Public Security, made public the decision at a meeting held at the office of the Ministry of Information and Communication on July 28.
He said that the original charges, filed by police in Dong Hoi City, Quang Binh Province, followed the arrest of seven for allegedly causing public disorder at the Tam Toa historic war relic, and that the arrest was conducted in accordance with law.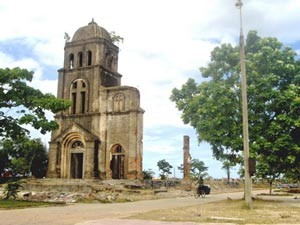 The Tam Toa historic war relic (Photo: Tuoi Tre)
Those arrested, mostly Quang Binh residents, have confessed their guilt and pleaded for clemency, police said. They have also acknowledged several others, including Father Le Thanh Hong and Vo Thi Thu Thuy, 52, involved in instigating the illegal building of a house on the site.
Police said that at 4am on July 20, over 200 Catholics, mostly from districts in Quang Binh province and some from northern Nam Dinh and Thanh Hoa provinces, who are working in Quang Binh, illegally built housing at the site of the Tam Toa historic war vestige without the local administration's permission.
The house was rapidly dismantled that same morning. There was a brief scuffle when some radicals attacked non-Catholic locals and police with stones and sticks.
In recent days, several priests from the Xa Doai Church in the central province of Nghe An alleged that Dong Hoi police had beaten Catholics. They incited fellow followers from surrounding churches to flock to Dong Hoi city for prayers to protest against police. They also called for the release of those arrested for violating law and that the ownership of the Tam Toa historic war relic be given to their church.
A document sent by Father Pham Dinh Phung, Head of the Xa Doai Church Office, acting on behalf of the church, conveying these allegations and demands to the Quang Binh People's Committee, was a total distortion, said police.
The Tam Toa church was built in Dong Hoi in 1886. It was almost totally destroyed by US bombings on Feb. 11, 1965, leaving just a bell tower on the site, scarred by shells.
According to the people's aspirations, the Quang Binh People's Committee on February 26, 1997, issued a decision to turn the bell tower of the Tam Toa Church into a historical relic site, to be preserved to remind the people of war crimes against the country.