The Environment Protection Department under the Ministry of Public Security raided two production units on Friday and caught them dumping untreated wastewater into the Tham Luong Canal in District 12 of Ho Chi Minh City.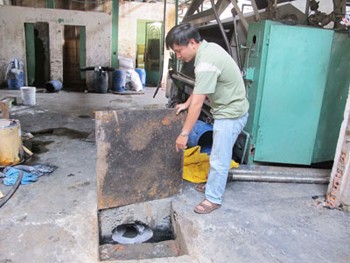 Authorities uncover a pothole full of wastewater, connected to a pipeline spewing the polluted water into the Tham Luong Canal, at the Quang Vinh production unit (Photo:SGGP)
Quang Vinh and Vinh Phuong dyeing units of the Quang Vinh-Vinh Phuong Trade and Production Company in Nguyen Van Qua Street in Dong Hung Thuan Ward were caught red-handed by authorities on Friday.
The two units have discharged hundreds of cubic meters of wastewater a day since 2000, and have no treatment facility for wastewater and exhaust fumes.
Police officials uncovered an underground pipeline laid out and connected to potholes, right under the dyeing machines.
Authorities had earlier conducted several inspections of the units but failed to uncover the underground pipeline.