Police in the central province of Ha Tinh May 28 returned to Hung Nghiep Formosa Ha Tinh Steel Company properties stolen from it by looters who took advantage of anti-China riots.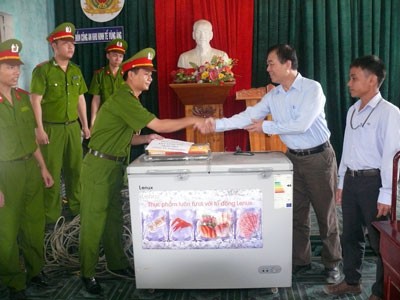 Ky Anh District Police representative returns stolen properties to Formosa Hung Nghiep Ha Tinh Company on May 28 (Photo: SGGP)
They included 17 computer CPUs, 14 monitors, three photocopiers, a projector, two printers, 15 blowtorches, 5.8 tons of iron and steel, six industrial refrigerators, 15 radiators, 11 motorcycles, and two drills.
There were also several kinds of equipment and hundreds of meters of electric cables.
They are valued at hundreds of millions of dong (VND100 million = $4,760).
The thieves from whom they were recovered would be charged under the law, Pham Viet Hung, deputy chief of the Ky Anh District police, said.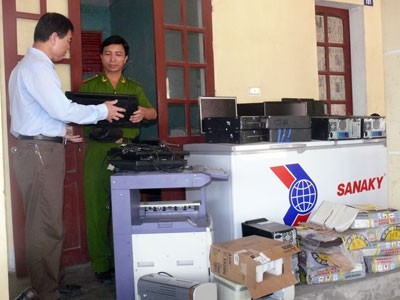 (Photo: SGGP)
On May 14 a fight had erupted between Vietnamese and Chinese workers at the site of the under-construction Formosa steel plant in the Vung Ang Industrial Zone over China's placing of an oil drilling rig in Vietnam's exclusive economic zone.
Some looters took advantage to steal properties from the site.
Formosa is a Taiwanese company.
The Ha Tinh Province police have also arrested and prosecuted dozens of offenders for causing public disorder and theft.
Related article:
Ha Tinh violence: anatomy of a riot