With the new school year approaching this week Ha Noi police called for co-operation from schools to crack down on students riding electrical bikes without wearing helmets.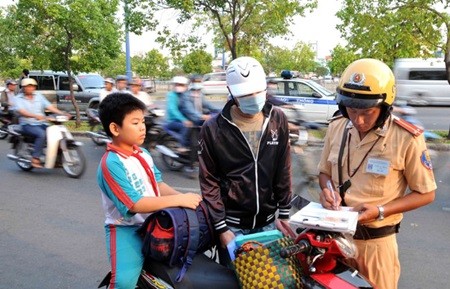 A policeman fines a parent for not making her son wear a helmet. With the new school year approaching, police in Ha Noi have called for co-operation from schools to crack down on students who ride electric bikes without wearing helmets. — VNA/VNS Photo An Hieu
Major Vu Van Hoai, head of Ha Noi's road traffic police department's communication division, said that since April 2014 police and the city's education and training department worked together to get more students wearing helmets.
Police would give schools the names of violators so schools could discipline students.
Since last November, police fined 208 student violators and warned 349 for not wearing helmets when riding electrical bikes.
Major Hoai said that the co-operation between schools and police had helped to improve road safety.
Traffic congestion in front of schools was also eased as students usually rode in groups, he said.
However, Hoai said that punishment was often not enough to stop students re-offending.
Under law, riding or being carried on an engined vehicle, including electrical vehicles, without a helmet carries a fine up to VND 200,000 (US$8.5 ).
Those under 14 received only a warning, Hoai said.
He added that disciplinary measures were not tough enough.
As a result, riding electrical bikes without a helmet is still common among students, especially during summer when schools can't discipline them.
Vuong Thanh Nhan, mother of an eleventh grader, said that she bought her son an electrical bike when he entered high school last year.
"My son is not old enough to get a driving licence or drive a motorbike to school," she said, adding that an electrical bike was a reasonable choice for him.
Nhan said that she asked her son to follow road rules and school regulations when riding the bike.
Nguyen Phuong Anh, a highschool student in Tay Ho District said her friends rarely wore helmets when riding electrical bikes, and neither does she.
Ha Noi's department of education and training plan to send inspectors to schools to check if students are wearing helmets.
Principals of schools where violaters were found would also be disciplined, Nhan Dan (People) newspaper reported earlier this week.
According to the Viet Nam Register, there are about two million electrical vehicles in the country, 70 per cent of which are motorbikes. However, only 30,000 have are registered and have number plates.
Last year, the ministry of public security decided that electric motorbikes must register with number plates, following a boom in electric vehicles which led to many young people riding carelessly, without helmets and causing traffic accidents.