Environmental Police has ordered a thorough probe into illegal logging of protective forest land to make way for rubber plantations in Dak Lak Province, said Phan Huu Vinh, Deputy Head of the Environmental Crime Prevention and Fighting Police Department on Sunday.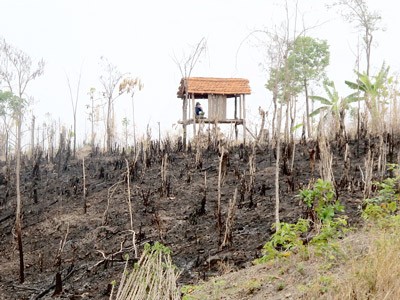 Police will investigate indiscriminate deforestation in the central highland province of Dak Lak (Photo: SGGP)
This probe was ordered after Sai Gon Giai Phong Newspaper published a series of articles from April 4-7, reporting indiscriminate logging in protective forests to make way for rubber plantations.
Several businesses with backing from provincial authorities had taken advantage of a Government policy to convert degraded forest land into rubber plantations, by chopping down thousands of hectares of valuable timber in protective forests.
Authorised organisations in the province had provided the department with incorrect reports and showed signs of covering up wrongdoings of some individuals and businesses.
After articles appeared in Sai Gon Giai Phong Newspaper, Vinh said his department had ordered a probe and would hold responsible all individuals and organisations for indiscriminate logging that led to deforestation of protective forests.
In related news, the central highland province of Kon Tum had also permitted seven businesses to implement 36 rubber plantation projects on 28,000 hectares of degraded forest land, during the last two years.
Businesses had earned VND60 billion from sale of 22,000 cubic metres of wood logs from the above projects, but have yet to deposit any amount to the State budget.
Related articles:
Deforestation in connivance with Dak Lak authorities
Large protective forest area destroyed in Central Highlands
Protective forest exploited for rubber plantation