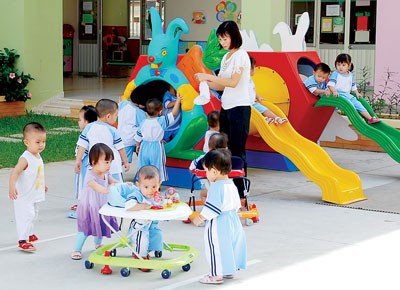 More boys than girls attend this nursery in District 4. Gender imbalance, beside affecting the spiritual and psychological life of the population, will also lead to many Vietnamese men not having the chance to be married (Photo; SGGP)
To amend the alarming gender imbalance, the Ministry of Health (MoH)'s General Office for Population Family Planning is working on a policy to support women and young girls. This may include awarding bonus marks when sitting a high school entrance or university examination, or exemption from tuition fees in a bid to increase female participation in education.
While family planning authorities had previously grappled with ways to slow the nation's soaring population growth, they are now faced with the added problem of a growing gender imbalance. Of 63 provinces in the country, 33 have encountered critical gender imbalance due to an outdated outlook of boys and girls, according to the office.
An increase of gender imbalance has seen the sex ratio rise from 107 boys per 100 girls in 1999 to 115 boys per 100 girls at present.
According to a report by relevant agencies, it blamed the rising imbalance on a cultural preference - male chauvinism.
Furthermore, Vietnam has not improved its welfare services with elderly parents still reliant on their children, especially sons.
In addition, a study also indicated that two-thirds of pregnant women knew the gender of their babies before giving birth, allowing them a chance to choose.
In response to the problem, the office decided to implement a project to reduce abortion and gender imbalance. The project will be piloted in 852 communes in 10 provinces which have a high ratio of boy babies.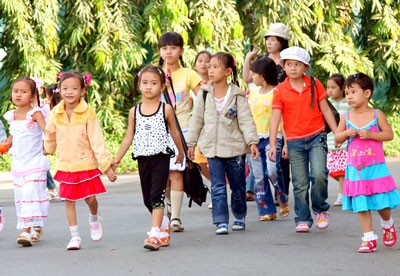 Women and young girls  should be cared and protected ( Photo; SGGP)
Duong Quoc Trong, deputy director general of the office, said that family planning officers will focus on broadcasting information of population and gender imbalance and its effects on society to couples of childbearing age, medical workers who conduct scans and those that carry out terminations.
The MoH and the office will fulfill a Government edict against state-agency staff having a third child or fourth child.
In related news, on World Population Day 2009, the MoH on July 10 in Hanoi held a meeting to praise outstanding demographic specialists, as well as freelance officers.
Speaking at the meeting, Deputy Prime Minister Nguyen Thien Nhan applauded achievements of officers, affirming that the planning family sector has contributed to the nation's sustainable development.
Mr. Nhan also instructed the ministry to intensify inspections of obstetric services to avoid parents being told of their babies' gender, as well as raising public awareness of old-fashioned views of men and women.
Moreover, the ministry should pay attention to protecting and taking care of children and women, Mr. Nhan added.