Next week, Vietnam's Politburo will consider a proposal by the Ha Noi government to expand the capital's total area to 3,200 square meters from a current 927, said Prime Minister Nguyen Tan Dung yesterday.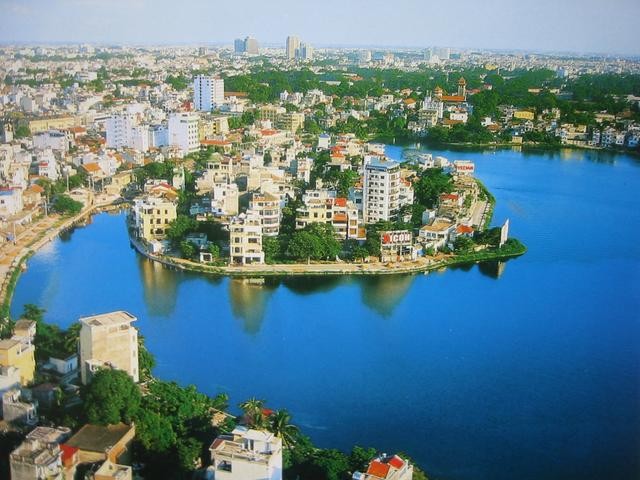 An aerial view of Ha Noi
During a meeting between Mr. Dung's cabinet and Ha Noi's municipal leaders, Deputy PM Pham Gia Khiem supported this expansion plan. It is aimed at "expanding Ha Noi's administrative borders" to tackle the burgeoning economy and its rising population which reached 3.2 million in 2005.
The Minister of Industry and Trade, Vu Huy Hoang commented figuratively that Ha Noi is "putting on a tight cloak" while Minister of Natural Resources and Environment, Pham Khoi Nguyen said by 2010, the capital city will have run out of land if the current rate of development continues.
Also at the meeting, Minister of Finance, Vu Van Ninh suggested moving hospitals and schools away from Ha Noi's downtown center and limiting further construction in that area.
In response, PM Dung agreed to hire foreign experts to help design a comprehensive urban master plan for the city.
Dung instructed the city leaders to implement more roadwork projects to build more routes and expand existing ones as well as raising the awareness of road users.
"I see in the past few months, traffic accidents in Ha Noi has dropped but someone made a comment that it may be due to the fact that there are now no roads to drive on, hence fewer accidents", Mr. Dung jokingly said in the meeting.
The Ministry of Transport was assigned to help the city solve traffic jams and gradually finalize a municipal transport planning scheme.
This should be considered a key and urgent task for Ha Noi itself and the Government as a whole, Dung emphasized.
The government leader urged cabinet members to spend more time with the city administration to help Ha Noi fulfill its targets, including finalizing the development plan as well as regional planning on the industrialization and modernization stage.
He entrusted his deputy, Hoang Trung Hai and the Minister of Planning and Investment, Vo Hong Phuc to help the city synchronize the two schemes and submit them to the Government for approval.
Ha Noi's economy in 2007 continued to develop and showed drastic growth, reaching a 10 year high at an estimated 12.1%, reported city Mayor, Nguyen The Thao. 
But administrative reforms and state governance, particularly in construction planning remained poor, he admitted.
 
Mr. Thao submitted several proposals to PM Dung for consideration, including a program for its millennial celebrations [in 1010 the city was made capital of the feudal Dai Viet nation - what is now modern Viet Nam]; urban management and development in a sustainable way to tackle traffic accidents and traffic congestion; turning an ordinance on Ha Noi into law; and holding quarterly review meetings between city leaders and the cabinet.