Fifty-nine elderly people who reside at the Bình Thạnh Centre for the Elderly in HCM City were able to vote yesterday (May 22) at their centre instead of the local polling station.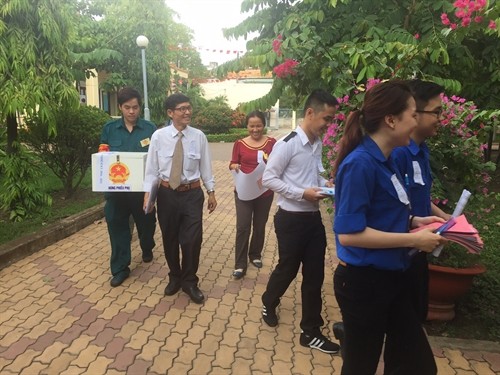 Local authorities provide voting assistance to the elderly. (Photo: VNS)
Nguyễn Thái Hùng, head of the polling station 105 in Bình Thạnh District's Ward 17, said that portable voting boxes were taken to centres for the elderly and at other locations to assist voters in casting their ballot.  
At Bình Thạnh Centre, many of the residents are not in good health, and some are Vietnamese heroic mothers.
"We provide special assistance to the elderly here. We help them fill in the voting card and put it into the voting box. We brought the box to them so they can vote easily," he said.
"Before Election Day, we gave them all the information about the candidates. We helped them with reading because of their weak eyesight and made sure they had enough time to read and review the candidates," he said.
Nguyễn Thị Thuỳ Long, 69, said she had lived at the centre for three years. Many of the people there could not go to a polling station.
"But thanks to the support of the State, we could vote easily to fulfill our citizen rights," she said. "I prefer candidates who are young and talented people, who will represent the people."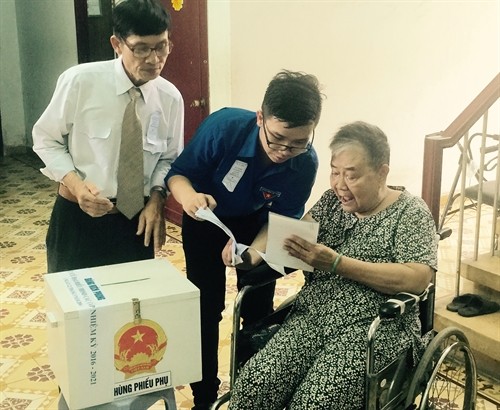 An elderly person in a wheelchair fills out her voting card with the assistance of a local government staff member. (Photo: VNS)
Nguyễn Thị Cúc, 70, said: "I've lived in the centre for 19 years. My husband died during the war. I have no children. In every election, the ward authority sends staff here to help us in voting, including reading information about the candidates, filling in the voting cards, and putting the cards into a voting box."
"I'd prefer to vote for young people to the NA as many of the older people will retire. I prefer that lawyers or police be elected to the NA because of their significant contribution to the country," she added.
More than 85 per cent of 1,890 eligible voters had voted as of 3 pm yesterday to select National Assembly deputies and People's Councils at polling station 105 in HCM City's Bình Thạnh District.