Rapid urbanization and the failure of the drainage system to keep up with the growth caused the severe flooding in Ha Noi recently, officials have said.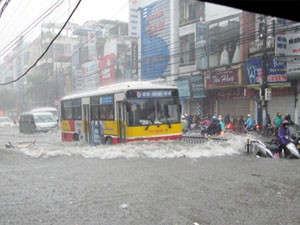 Nguyen Luong Bang Street submerged in the recent flooding in Ha Noi (Photo: Tuoi Tre)
The flooding caused by as much as 800-900mm of rain over several days submerged many of the new urban areas in Ha Noi like Dai Kim, Linh Dam, Dinh Cong, Den Lu, My Dinh, Me Tri, Van Quan, and Trung Hoa-Nhan Chinh.
Bui Nguyen Hong, deputy head of the Department of Dyke and Management, blamed the inundation on the indiscriminate urbanization that has overloaded the drainage system.
Many of the new urban areas have come without the required infrastructure, he said.
Dao Ngoc Nghiem, former director of the Ha Noi Planning and Architecture Department, said most of their storm sewer networks are internal and are not connected to the main drainage system, leaving them vulnerable to inundation during heavy rains.
Le Hong Quan, deputy director of the Management Board of the Ha Noi Drainage Project, said an ongoing project to renovate the capital's drainage system only covers four districts initially and not any of the new urban areas.
Old areas safe
Old residential areas, built a long time ago by the French, escaped the flooding, Mr. Nghiem pointed out.
That was because their foundations are well above sea level, he explained.
In addition, though these areas are just 1,000 hectares in size, they are drained by 74 kilometers of sewers, making them immune to inundation, he added.
Experts calculate that if the urban area expands by 7 percent, the capacity of the drains has to be doubled. Agriculture and Rural Development Deputy Minister Dao Xuan Hoc said, for this, more pumping stations must be built.
Mr. Nghiem said another reason for the flooding was that many reservoirs and canals had filled up.