Lak District is one of the poorest districts in Dak Lak Province with its main population belonging to the Mong ethnic minority group, a wandering hill tribe who lives by shifting cultivation and are constantly having to brave the many rigours of daily life in this difficult terrain.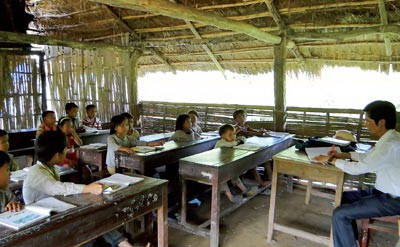 A makeshift classroom for the poor Mong Ethnic Minority children (Photo:SGGP)
Notwithstanding their difficult life, parents are deeply concerned for their children and want them to study and learn and gain knowledge. So much is their passion to see their children educated that young children have to walk on foot for hours every day to study in school.
Although the schools are in far off distances from homes, no one complains in their eagerness to study their mother tongue at school. Every day, Mong children walk up to ten kilometres from their homes, cross dangerous streams to get to their school.
This ardent pursuit of knowledge amongst the Mong children in Lak District touched the heart of a Sai Gon Giai Phong reporter. All households in the district are extremely poor but that does not deter the children who study hard.
Nguyen Hai Phong, a teacher in a school in D'Lay village, said that although students face difficulties they still try very hard to study.
Phong knows how his students think, their hopes and aspirations, and wants very much to help them escape poverty, which acquiring knowledge can help them do.
'What makes me most happy is seeing the mountain children go to school every day', said Phong.
He added that there are 53 ethnic minority groups in Vietnam but 70 percent of the ethnic minority pupils do not know how to speak the Vietnamese language clearly. This greatly affects their ability to study. Therefore, it is necessary they learn their mother tongue, so as to improve their overall learning ability.
To ensure that ethnic minority pupils study and acquire the Vietnamese curriculum correctly, they need to accustom themselves to Vietnamese language in preschools by learning from bilingual books.
Teachers in D'lay encourage students to come to school and are happy that parents also encourage and create conditions to send their children to school.
With pens and notebooks in hand, many students struggle to write, as their small hands are only accustomed to toiling on the fields.
Teacher Tran Thi Que said that some students come to school with an empty belly, but they still concentrate and listen to their teachers and raise their hands to ask a question. Sometimes they even offer what fruit they bring with them to their teachers.
Although they hardly eat a nutritious diet, the students here are content with just coming to school and acquiring some knowledge.
They seek knowledge, not food and are heedless to the hot or cold weather, rain or shine, said the teacher.