Vietnam Fatherland Front Chairman and Ho Chi Minh City leaders yesterday visited and gave gifts to poor residents and workers on occasion of Lunar New Year (Tet holiday).
Chairman of the Vietnam Fatherland Front Nguyen Thien Nhan February 6 graciously asked residents in Thuan Ha Commune of the highlands province of Dak Nong about crop production and living condition. He and the Vietnam Red Cross presented 100 gifts each worth VND1 million (US$45.8) to disadvantaged minority ethnic people in bordering area to celebrate the Lunar New Year.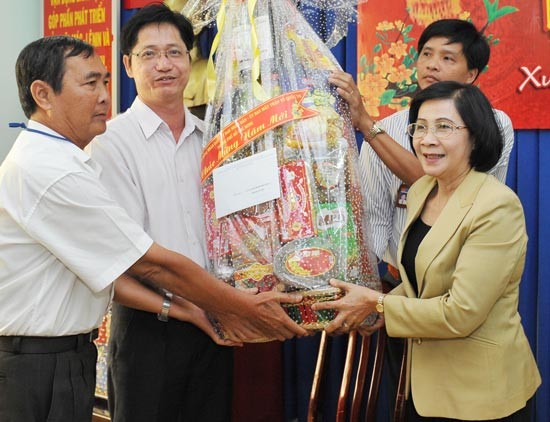 Nguyen Thi Thu Ha, Deputy Secretary Party Committee in Ho Chi Minh City gives gifts to employees in a rehabilitation center in Cu Chi District where raises homeless beggars and drug addicts t on Tet holiday (Photo: SGGP)
In addition, Mr. Nhan gave a charity house worth VND50 million ( US$2,292) to three orphan children in Dac Thot village in Thuan Ha Commune.

Thuan Ha bordering commune has 360 households of ethnic minority and 30 percent of them are under poverty line.
On the same day, Mr. Nhan also gave further 100 gifts each worth VND1 million(US$45.8) to poor families and families serving the cause of the nation's revolution in Dak Lak province.
Meantime, Nguyen Thi Thu Ha, Deputy Secretary Party Committee in Ho Chi Minh City led a delegation to visit a rehabilitation center in Cu Chi District on occasion of Lunar New Year.
More than 100 employees in the center are helping to rehabilitate and provide psychology consultation to over 400 homeless drug addicts as per the city's plan to bring homeless beggars and drug addicts to social sponsoring centers to take care of them.
Ms. Ha encouraged the center employees to finish their duty, lauding their services to the society, wishing them to have a happy Lunar New Year.
Also on the day, Head of the Department of Propaganda and Training of the HCMC Party Committee Than Thi Thu visited soldiers stationed in the city and medical workers in Pham Ngoc Thach Hospital.
On the day, Truong Thi Anh, deputy chairman of the municipal People's Council visited soldiers in the section No. 7 and medical workers of Skin Hospital and wished them happy Lunar New Year
The city Labor Union February 6 gave 1,500 gifts comprising of VND300,000 in cash and a present worth VND200,000 to workers in exporting processing zones Tan Thuan, Linh Trung and industrial parks Tan Tao and Cu Chi.

A delegation from the city Party Committee also visited and presented gift to worker Le Thi Thanh Huyen who had to quit job because of illness. Huyen is under difficult living condition as she spends money on medications while she cannot earn for life.
The delegation also visited landlord Tran Xuan Vinh in Binh Chieu Ward in Thu Duc District to give him a gift. The Labor Union in Thu Duc District also convened a meeting and gave gifts to 120 landlords who pledged not to increase rent and pay attention to workers' spiritual lives.
Elsewhere in the city, the Labor Union of the Department of Health held a fair to sell discount goods to raise funds to take care of poor medical workers and those who are suffering chronic illnesses. At the fair, the union granted 148 gifts including VND500,000 in cash and gifts to needy and diseased employees working in health sector.
Landlord Le Thi Thanh Hoa in Linh Xuan Ward in Thu Duc District held a gathering with 80 workers. The landlord in addition gave each worker a gift worth VND200,000 on Tet holiday.

In the morning of February, representatives from People's Committee and the Department of Culture, Sports and Tourism in the Mekong delta City of Can Tho and People's Committee in Cai Rang District travelled on a tourism boat to wish a happy new year to traders and tourists in Cai Rang Floating Market which is a well-know tourism destination of the city and attracts around 1 million holidaymakers a year. Total spending is VND80 million including 225 gifts each worth VND300,000 and rice, instance noodle, cooking oil, and confectioneries.