The world's largest-known population of gray-shanked douc was discovered in central Viet Nam yesterday.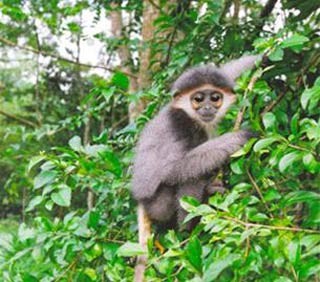 The endangered gray-shanked douc discovered in central Viet Nam. Photo:AND Frankfurt Zoological Society
Scientists from the World Wildlife Fund (WWF) and Conservation International (CI) said that they discovered at least 116 of the animals in the Que Phuoc District of the central provinces of Quang Nam.
Surveys were only been carried out across a small part of the area and scientists believe that many more doucs may be found in the adjacent forest.
"To put this into a human perspective, the discovery is like finding a new country with the population of over one billion," stated Ben Rawson, a wildlife biologist for CI.
The doucs are located in the proposed Central Quang Nam Species and Habitat Conservation Area.
WWF and Conservation International support the establishment of the protected area here, which aims to protect the globally important population of monkeys, along with a herd of elephants that live in the lowland forests to the south.
The grey-shanked douc (Pygathrix cinerea) are one of the world's 25 most endangered primates and have only ever been recorded in the five central Vietnamese provinces of Quang Nam, Kon Tum, Quang Ngai, Binh Dinh and Gia Lai.
Less than 1,000 doucs were thought to exist at present and according to scientists, only one other population with more than 100 monkeys was known of before now.