Only 23 percent of pork in Binh Dien market had enough origin tracking information, it was 24 percent in Hoc Mon market. Many traders in the two markets raised pressure on inspection forces saying they did not know traceability ring regulations.

Because yesterday was the first day of implementing the program, the two markets were foced to permit pork with quarantine papers but without traceability rings to enter the market.
At a meeting in Binh Dien market on the same day, traders said that many small breeders in provinces are unclear about the pork traceability regulation. Provincial venetinary agencies are not responsible for entering pork origin tracking information in the project's software.
Deputy director of the HCMC Department of Transport Nguyen Ngoc Hoa who is deputy head of the pork origin tracking project, said that the city has spent a lot and taken much time and effort to train relevant sides to attend the project. That aims to prevent from affecting small breeding households. Still, if pork with unclear origin keep entering markets, the city will apply following moves to cope with the issue.
HCMC's consumpion demand now nears 10,000 pigs a day. At present, many farms and big companies in the city are able to supply enough clean pork meeting traceability requirements.
HCMC determines to implement the project and those unable to meet rqeuirements will be ruled out, Mr. Hoa affirmed.
The project is considered to be a basic for HCMC and provinces to coodinate together to develop a modern breeding and slaughtering process. On that basic, the city will be able to control supply and demand, price and food safety.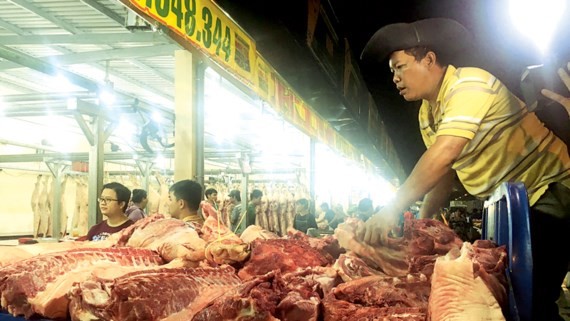 Pork without traceability rings was still imported to wholesale market on October 16, the first day of implementing the pork origin tracking project in HCMC (Photo: SGGP)