On March 8 every year, the world celebrates International Women's Day and so it is significant to take a look at some of Vietnam's most illustrious, most successful businesswomen who have played an important role in the economic growth of the country, besides having done the country proud.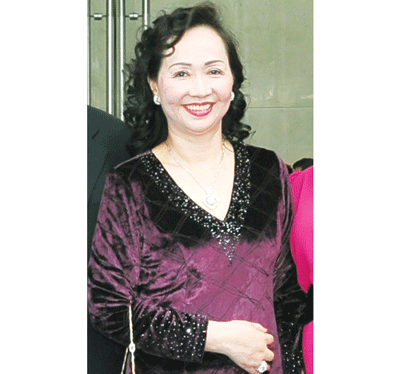 Truong My Lan, Chairwoman of Van Thinh Phat Group Holding (Photo: SGGP)

Truong My Lan, Chairwoman of Van Thinh Phat Group Holding



Van Thinh Phat Group Holding, founded in 1991, has expanded its investments from operating restaurants and hotels to building and trading in real estate at the moment. Among its many successful projects are high-end restaurants, hotels, office buildings, and apartment buildings such as the   Windsor Plaza Hotel Saigon and the luxurious service apartment building- Sherwood Residence, both in Ho Chi Minh City.

With many ongoing projects like residential buildings, resorts, tourist areas in Ho Chi Minh City and the neighborhood, the company has affirmed its position and prestige in the Vietnam real estate market.

Bearing in mind the wish to turn the city into a better place for living, Truong My Lan, Chairwoman of Van Thinh Phat Group Holding, has prioritised modern construction projects in the downtown area. On national holidays such as Tet, her company participates in decorating the city's main streets with artistic lighting systems in order to attract more tourists as well as give a state-of-the-art ornamental touch to the city.

Moreover, Van Thinh Phat Group Holding always uses its own resources to support social activities like caring for poor citizens, social welfare groups, and those with distinguished service to the country.
Despite the present economic turndown, the company has many advantages since they have restructured the whole company and planned collaborations with multinationals in advance, and are quite confident about executing many feasible projects this year.

Lan is content that their projects have significantly contributed to the beauty of Ho Chi Minh City. As a woman, she feels happy to see families enjoying themselves in restaurants or department stores belonging to the Van Thinh Phat Group.

Working nearly 18 hours a day, Lan appreciates the time spent with her family. Despite the success of the company, the moments spent with her loved ones are the most treasured and memorable.

Nguyen Thi Thu Suong, Head of Saigon Commercial Bank
The successful merger of Saigon Commercial Bank with a registered capital of over VND10 billion (US$480,300) marks this a very special year. Thanks to a strong management team and a focus on the bank's motto 'towards sustainable development', Nguyen Thi Thu Suong, Head of Saigon Commercial Bank feels well grounded in her position.

The bank merger received unanimous support from local authorities, related agencies as well as stockholders. After the merger, the bank received several proposals from various international partners.

The main priority now is to modify and institutionalise action strategies, update the information system, rearrange management methods, build a company culture, and improve human resources.
This year, the bank faces many immediate challenges, but is determined to ensure the best benefits for all customers, partners and stockholders.

Being a mother, Suong also has family responsibilities having to take care of her husband and children as well, like a good Vietnamese women. But she claims to be fortunate to have such an understanding husband who always supports her and encourages her to face and overcome all challenges.
Huynh Que Ha, Vice Chairwoman of Sacombank (Photo: SGGP)

Huynh Que Ha, Vice Chairwoman of Sacombank
Despite being given equal opportunities as men in every aspect of life from developing to affirming oneself, women should always fulfill their role in their family first. Thanks to feline instincts of caring and sensitivity, we have more advantages in analysing and evaluating situations in detail. Our biggest disadvantage, however, is the balance between work and family time.

Understanding both pros and cons, Huynh Que Ha, Vice Chairwoman of Sacombank, defined a specific time for business and family right at the beginning. After a five day week, she whole-heartedly devotes the weekend to her family.

Since its founding days, Sacombank has established a competitive edge in the market. The 21st century witnessed many women success stories throughout the world, clearly affirming their position in society.

Sacombank is always concerned about the welfare of women nationwide realising their important place in the community. To assist women in managing their finances at home more effectively,
Sacombank opened a branch called 'March the Eighth' in Ho Chi Minh City in 2005, with many useful options. Two years later, a similar branch was opened in Hanoi. At the moment, the bank is planning for some more identical branches in major provinces throughout the country.

Nguyen Thi Hoa Le – Member of Presidium of the Central Vietnam Women's Union, President of Peace Tour Company
A woman director must know how to keep her traditional role at home as well as at work, take full responsibility of her job, and be in harmony with staff members. She should still strive to become a good example for her juniors, no matter what difficulties she may encounter.

Being a single woman living with her mother, Nguyen Thi Hoa Le, President of Peace Tour Company, always tries her best to take care of her, both physically and emotionally. As a student in Gia Long High School, she also did certain tasks in her own ward and district and later worked for the Vietnam Women's Union. Despite having no time for personal life, she felt a deep sense of happiness in helping other people.

Bearing in mind that credibility is the most valuable characteristic of a successful business, she worked almost non-stop to attend to matters in Ho Chi Minh City and on weekends to monitor employees' activities at tourism resorts. Her best achievements have been to create an excellent staff team with high credibility at the Peace Tour Company, one greatly appreciated by customers.

Thanks to these factors, the company has had a steady development for years and a definite advantage in raising capital, attracting investors such as Nam A Bank or Hoa Binh Construction & Real Estate Corporation. With experience in managing staff, monitoring capital, supervising domestic and foreign business, the Peace Tour Company is now able to expand to other areas like real estate, construction and financial investments.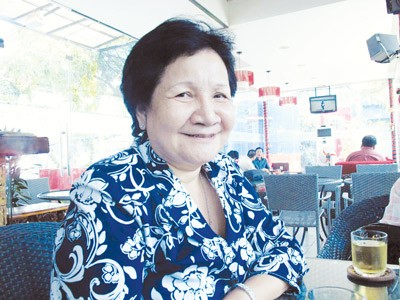 Queen of Egg Ba Huan ( Photo: SGGP)

'Queen of Egg' Ba Huan
Purchasing and selling more than a million eggs per day seems very hard work, but it provides jobs for thousands of people in the southwest and southeast areas, which is quite rewarding, despite certain difficulties along the way.

When importing an egg assembly line in 2005, Ba Huan bumped into trouble right away as small traders spread rumors of her wish to become a monopoly and boycotted her products. Thanks to the assistance of the media, people gradually understood her way of thinking and greeted her with open arms subsequently. That is to say, honesty does attract support from others.
During the time of spread of bird flu worldwide, realising that the European market could still do business in eggs, she borrowed money from friends as well as sold certain assets to import a similar egg assembly line as that in Europe.
After six of operation, she received approval from the city's governor and took part in the price subsidised programme, increasing sales even more. From just about two hundred thousand eggs per day, she now sells an average of one million eggs per day at a price that is 10 per cent lower than the market.

Not far from 60 years, she is now aiming at long-term goals such as providing the community with safe and clean produce rather than living a comfortable and luxurious life.

She believes that being a woman, no matter what we do; our most important responsibility still lies with our family. Therefore, it is harder for us to do business, as we need to be a good wife and mother as well as a businesswoman at the same time.

After working nearly 16 hours a day in her factories, she goes back home to care for her children. Yet before sleeping at night, she still needs to plan the next day's schedule. Up until now, she can manage a stressful life since she believes that doing everything whole-heartedly and dedicatedly can lead to a   rewarding success.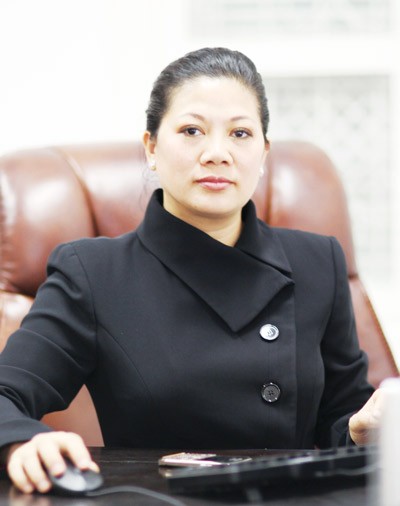 Do Thi Kim Lien, president and chairwoman of AAA Assurance Corporation (Photo: SGGP)

Do Thi Kim Lien, President and Chairwoman of AAA Assurance Corporation,
Do Thi Kim Lien graduated from the Hanoi Pedagogy University No.2 in 1989, and spent the next three years teaching.

She later moved to the South, but without a proper training or knowledge of business or money, she suffered many setbacks and faced innumerable hardships, before reaching her present position of President and Chairwoman of AAA Assurance Corporation and an honorary Consular of the Republic of South Africa.

After seven years since it began operations, AAA has finally broken even, under a clever restructuring plan prepared by Lien 3 years ago, which kept overall costs down. Applying several other comprehensive measures last year, she was able to reduce overheads to 18 per cent while increasing sales by 22 per cent.

Cooperation with the Republic of South Africa was also an obvious advantage. In 2009, Vietnam exports to South Africa touched US$218 million and imports were at US$78 million. During the first 5 months of 2010, import and export revenues reached US$241million. This year, AAA is giving high priority to providing free consultation to Vietnamese businesswomen wishing to expand their business to South Africa.

It is a fact, that today Vietnamese women are more successful, more capable, and more confident than ever before. Yet they still have to bear so much gender prejudice, be it as a politician, a businesswoman, a singer, or an actress. The god given gift of being a wife and a mother has given them an inherent pride and strength to tackle hardships at all times.

Today's women want better recognition and appreciation in their work, clearly walking in step with their male counterparts, and quite of being a beacon of light for all!