Viet Nam is emerging as an important factor in the ASEAN economy and the U.S. also wants to play an important role in boosting economic cooperation in the region, said a senior assistant to U.S. President George Bush.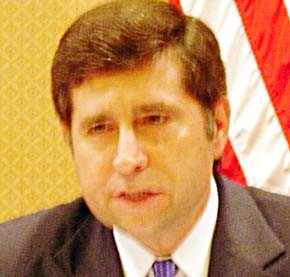 Mr. Daniel Price
Senior Assistant Daniel Price, also Deputy National Security Advisor of the U.S., said this at a press conference in Ha Noi on March 21.
On the same day, he concluded a two-day visit to Viet Nam to boost multifaceted cooperation with the Southeast Asian nation. He said his trip also aimed to help the country better integrate into the global economy.
"Our President pays close attention to further boost economic relations of the two countries," he said.
Asked by a reporter how the current U.S. financial situation would affect Viet Nam, Mr. Price said his working sessions did not discuss this issue, and only focused on bilateral economic relations.
Mr. Price is a senior assistant to President Bush on international economics policy and President special envoy at international forums such as the Group of Eight and the Asia-Pacific Economic Cooperation forum.
During his first ever Viet Nam visit in the capacity of a Deputy National Security Advisor, Price had working sessions with top officials of the Government Office, the ministries of Industry and Trade, Planning and Investment, Foreign Affairs, and Finance.
Host and guest mulled measures to boost bilateral relations, while sharing a view that economic, especially commercial and investment, relations between the two countries have been strongly faring, helping develop bilateral relations.
The two sides agreed to make greater efforts to boost friendship and multi-faceted cooperation in the principles of equality and mutual benefits in the interest of the two nations and for the sake of peace, security and stability in the region.