Prime Minister Nguyen Tan Dung said yesterday that the national poverty alleviation programme, 30A, needs to focus on motivating people to get out of poverty on their own.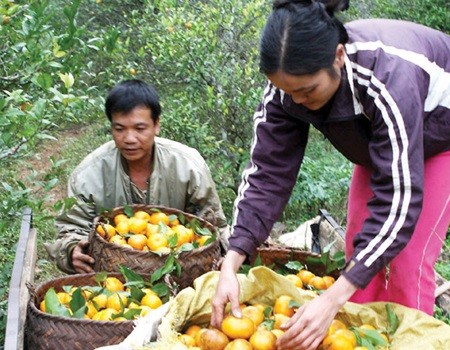 Some households in Lang Son province in the North uses capital from the Bank for Social Policy to grow high-cropping oranges to overcome poverty. Prime Minister Nguyen Tan Dung said that the national poverty alleviation programme needed to focus on motivating people to get out of poverty on their own. — VNA/VNS Photo Tran Viet
Addressing an online conference, he praised the major gains made by the national programme over the last six years, saying the Government had always considered poverty reduction a top priority.
However, local authorities should reassess the program and cut down overlapping policies, he said.
Giving examples of the self-help orientation that he was advocating, the PM said allocation of forest land, incentives to engage in animal husbandry, and helping farmers find output markets were likely to be more effective than providing mere financial support.
He asked local authorities to improve co-ordination and use funding more effectively.
He also asked the media to highlight the stories of those who have succeeded in overcoming poverty. Such stories could inspire others, he said.
Programme 30A, implemented since 2008, is considered one of the most important national initiatives.
It received about VND22,189 billion (US$1.03 billion) in funding during the 2008-15 period, 77 per cent of which was sourced from the State Budget. The programme has focused on 62 poorest districts in the country, with each receiving VND35-40 billion per year on average.
The number of poor households in the 62 districts reduced from 378,000 at the end of 2010 to 234,743 at the end of 2014, a reduction of about 38 per cent.
However, officials have acknowledged that the poverty rate in the targeted districts is still very high when compared with the national average of around 7 per cent, with poor households making more than 50 per cent of the residents in some districts.
Conference delegates noted that in several districts, ethnic minority residents accounted for more than 90 per cent of poor households.
They expressed concern over formidable hurdles in the way of achieving sustainable poverty reduction. They said many households were at high risk of falling back into poverty, poor areas lacked adequate infrastructure and many households lacked access to basic services.
Officials from the National Steering Committee on Poverty Reduction acknowledged the shortcomings. They promised more incentives towards encouraging people to act on their own instead of just providing financial aid. They also said procedures for accessing loans would be simplified and access to basic services increased.
The conference heard that the programme aimed to reduce the number of districts classified as "extremely poor" by 10 per cent and bringing poverty rate in these districts closer to the national average of around 6 per cent. The average poverty rate in the poorest 62 districts is around 33 per cent.
Representatives of many localities asked the Government to reassess current policies to prevent overlapping, and to ensure that they are in line with the national programme to build new-style rural areas. They said more young people should be encouraged to work in these districts and investment sought from the private sector.
Hoang Thi Hanh, deputy head of the Northwest Steering Committee, said infrastructure development in poor districts needed more support. He also called for greater linkages between localities towards ensuring rational production and sufficient output markets.