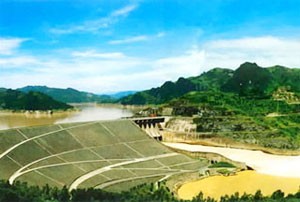 Hydroelectric dam Hoa Binh on Da River.
State utilities firm Electricity of Vietnam (EVN) announced that it has no choice but to cut electricity supply as the dry season is coming in.
In a few coming days, power cuts will be carried out from 9:00 a.m. to 11:00 a.m. and from 5:00 p.m. to 7:00 p.m. every day until the end of the year.
Justifying the power cut, Mr. Dang Huy Cuong, Director of the National Load Dispatch Center (AO) of EVN pointed out that the whole country has had a shortage of electricity for several years now. Recently, the implications of this situation have worsened as a number of power stations, like the 1500-MW Phu My Power Plant which is halting its operation for repair, while a number of new supply sources of power, including standby ones are not ready for use.
Another example is the Ca Mau Plants No.1 and No. 2, with a total 1500MW capacity, which were supposed to begin their operation and commence generating power by 2007. These plants were an attempt to help the country overcome power shortages during the dry season, yet they both cannot start operating due to technical problems.
At present, the total daily demand of power over the dry season is put at 197million KWh, which requires an output of 11,200MW, yet the highest available output of the entire supply system is limited to 9,800MW per day.
With such a demand, hydroelectricity plants have little choice but to run at their full capacity to produce electricity for the whole nation' electricity grid.
However, hydroelectricity is also running out due to the shortage of water in hydroelectric dams in the dry season.
An EVN spokesman added that in a next few days, the volume of power consumed is expected to climb up to 205 million KWh per day, so EVN has few options but to implement scheduled power cuts nationwide as a means to ensure the integrity and safety of the system's operation.
EVN reported on a power shortage of 6.6 billion KWh this year and forecast that the whole country will face a power shortage of approximately 8.6 billion KWh in 2008 and up to 10.3 billion KWh in 2009.
According to the Ministry of Industry and Commerce, 25 medium and small-scale hydroelectricity projects are expected to be in operation by the end of this year. Currently only eight among them have started operation, generating a total volume of 94.6 MW of power. A number of foreign investment projects are still on a waiting list while other projects owned by local investors have been making slow progress.
Many power supply enterprises blamed EVN for the shortage of power, saying that its monopoly on the power industry makes many investors hesitate to build power plants for fear that if EVN do not buy their products, then there is no other market.