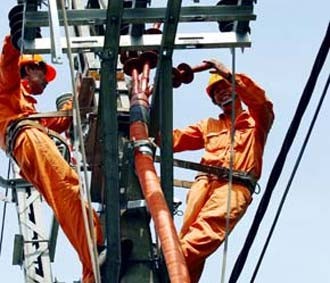 File photo
Vietnam will face a power supply shortfall of up to 3 billion kWh in 2011 due to the serious water shortages in major reservoirs, said an official of Electricity of Vietnam at an EVN meeting on Jan. 10.
Meanwhile, Deputy General Director Duong Quang Thanh said power demand will rise substantially, adding that the country will need around 117.6 billion kWh this year, including 56.14 billion kWh in the dry season.
To meet the demand, EVN will generate 48.1 billion kWh and intends to buy 64.5 billion kWh, a year-on-year rise of 15.78 percent.
In addition, EVN will collaborate with the Irrigation Directorate of the Ministry of Agriculture and Rural Development and relevant localities to open sluice gates to serve winter-spring rice crops.
The group will regulate reservoir water levels and mobilise the operation of thermal electric sources and gas- fuelled turbines to ensure power generation in the coming dry season.
It also assigned the Northern Power Corporation to negotiate power imports and quickly deal with breakdowns at power plants and commission new thermal electric plants. EVN provided 84.4 billion kWh in 2010, a year-on-year increase of 13.58 percent.