With hydropower plants running drier than ever before, unpredictable, day-long power cuts have been punishing Vietnam's business sector.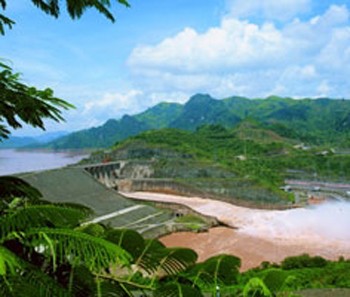 Hoa Binh, one of the largest hydropower plants in northern Vietnam, is not operating at maximum capacity due to a water shortage (Photo: Lao Dong)
Can Tho Industrial Zone and Export Processing Zone Management Board representative Vo Thanh Hung said that regular power cuts had drastically cut production levels at major facilities in the Mekong Delta city, the western region's major economic, commercial and industrial hub.
He said the electricity industry had not been informing businesses of power cuts in advance.
He also said that the board had been trying to contact officials at Can Tho Electricity to discuss the problems, but the company had not responded.
Well runs dry
According to the Electricity Regulatory Authority of Vietnam at the Ministry of Industry and Trade, the power shortage will be worse this year than last, especially in May and June, the peak months of the dry seasons, because several new energy projects, including hydropower plants, were behind their construction schedules.
Dang Hoang An, deputy general director of Vietnam Electricity (EVN) said that Vietnam's three largest hydropower plants, Hoa Binh, Thac Ba and Tuyen Quang, are operating at their lowest output levels ever this year.
EVN has been forced to limit the output of its 20 large plants due to low reservoir and general water levels.
Power demand in April, May and June is expected to reach 285-300 million kwh per day while the maximum output that EVN's plants can generate is just 270-285 million kwh a day.
As a result, the national electricity system will lack about 10-15 million kwh daily.
The heat is on

Many localities in the central city of Da Nang experienced power cuts while it was 36-37 degrees Celsius on April 22.
Pham Hong Chien, director of Da Nang City's Department of Health, said that hospitals and health clinics had not been exempt from the cuts and were often without electricity for 6 to 12 hours a day.
Although they have power generators, the health facilities must conserve if they want to meet the full day's demand, she said.
Many district hospitals in Thua Thien-Hue Province are also using generators to cope with the power failure.
Business owners said that the Thua Thien-Hue Electricity Company had cut power without warning, bringing the local business and production sector to a grinding halt.
Hundreds of businesses in the southern province of Binh Duong 2 jostled to rent generators on April 22 after it was announced that a long-term power cut would ensue beginning April 23.
Nguyen Trung Thu, deputy director of Binh Duong Electricity, said power blackouts occurred twice weekly from 6am to 10pm, making it difficult for residents and local businesses to work and plan their days.