Powerful typhoon Nesat slammed into Vietnam's northern coast by afternoon of September 30 after causing havoc in Hainan Island of China.
The tropical storm was forecast to make landfall in Quang Ninh Province and Hai Phong City, said the national weather bureau.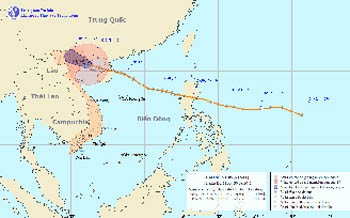 Typhoon Nesat set to hit northern Vietnam by afternoon of September 30
At 10am this morning, the storm was centered 20.9 degrees north latitude and 107.3 degrees east longitude along the coast of Quang Ninh Province and Hai Phong City.
Strong winds near the eye of the storm touched level 9-10 and moving at 75-102 kilometers an hour with gusts reaching level 11-12.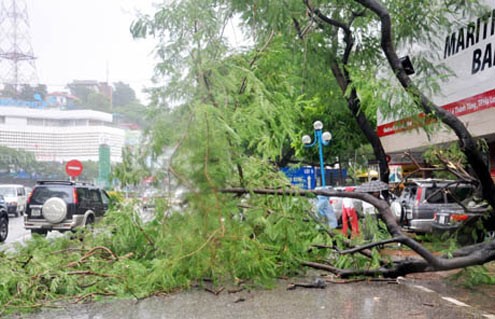 A fallen tree seen in Quang Ninh on the Sep. 30, 2011 morning due to gale force winds coming from typhoon Nesat (Photo: Quang Ninh newspaper)
Within the next 12 hours, the storm is expected to move west northwestwards at 20 kilometers an hour to hit Quang Ninh and Hai Phong and then weaken into a tropical depression.
By 10pm tonight, the tropical depression will lie along the northern mountainous regions of Vietnam with wind gales of level 6 or less, blowing at 36 kilometers an hour.
The Gulf of Tonkin is presently very rough and choppy as a result of the storm with winds of level 8 blowing at 62-74 kilometers an hour. The coastal areas of the provinces from Quang Ninh to Thai Binh will suffer level 6-7 winds moving at 39-61 kilometers an hour.
Coastal areas from Quang Ninh to Nam Dinh Provinces are being warned of high tides that might peak 2-4 meters high. Northern and central provinces might experience medium to heavy rains and the mountainous regions must brace for landslides and flashfloods, after torrential downpours.