As the state's budget for health care does not meet demand, it's appropriate to accept investment from the private sector, Ms. Pham Phuong Thao, chairwoman of city's People's Council and a deputy, told the National Assembly on Tuesday.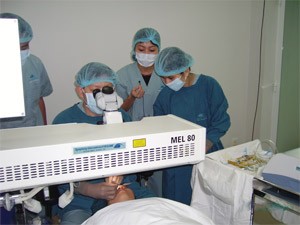 An eye surgery is carried out at An Sinh Hospital, a private hospital in HCMC (Photo: Nha Ca)
The central government budgeted VND2.7 trillion (US$164 million) for health care in remote areas for 2005-2008 and the proceeds from the sale of lottery tickets in the provinces are invested in the medical sector.
Because investment in this sector does not meet demand, the implementation process is slow, Health Minister Nguyen Quoc Trieu told the Assembly.
Earlier this year, the government decided to sell bonds to upgrade hospitals in order to give poor people in remote regions better health care and reduce pressure on central hospitals.
The government pays for 30 percent of health care costs, patients pay 60 percent and charitable donations pay 10 percent.
Preventative medicine has long been neglected by the government, Ms. Truong Thi Mai, chairwoman of the Social Affairs Committee, told the Assembly.
There is a growing shortage of workers in the preventative medicine sector, she added. The government paid attention to this sector only in the context of campaigns against various epidemics.
In some provinces, only 10 percent of the state's budget is spent on preventative medicine while the World Health Organization recommends that at least 30 percent of a medical budget be spent on preventative medicine.
Ms. Pham Phuong Thao used Ho Chi Minh City as an example of how the private sector can make a contribution to medical care.
Ten state-run hospitals, 30 city clinics and 24 district infirmaries have accepted investments from individuals. Private hospitals are mushrooming and playing an essential role, providing examination and treatment for one third percent of patients.
However, hospital owners complain of various difficulties. Regulations fail to specify the proper method of setting up a private clinic. Unlike state hospitals, private hospitals get no preferential treatment in terms of taxes, land, or hiring.