PM Nguyen Tan Dung listed the Government's main tasks for 2010 and answered questions related to corruption and hydroelectric projects in the central region at the National Assembly's question and answer session on November 19.

Next year the Government would focus on spelling out the responsibilities of heads of agencies, requiring them to report on all programs on monthly and quarterly bases, the PM said.

Administrative reform would be intensified, with 30-40 percent of regulations to be scrapped and the working styles of agencies to be changed, he said.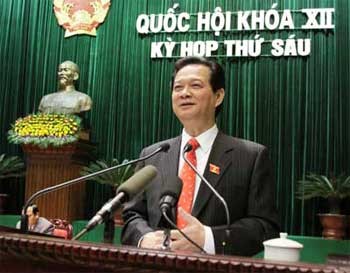 PM Nguyen Tan Dung speaks at the NA question and answer session on November 19, replying to legislators' queries on anti-corruption and safety of hydroelectric projects (Photo: CAND online)
The economic stimulus measures would continue to support businesses and the economy, he said.
Anti-poverty programs would be strengthened, vocational training expanded, the quality of tertiary education improved, and more jobs created, he said.

Measures would be taken to ease the overload at hospitals, protect the environment, and alleviate the impacts of natural disasters, he promised.
Corruption fight tardy

Le Van Cuong, a deputy from Thanh Hoa, said corruption, far from being eradicated, has become even more complex.

The investigation and trial of many major cases happen too slowly, he said. 

He blamed it partly on the poor functioning of the Central Steering Committee for Anti-Corruption and its affiliates in provinces and cities.

The PM agreed that corruption remained a serious and complicated issue, but "the Government has instructed relevant agencies to speed up investigation of corruption cases and prosecuting offenders."

"Many major corruption cases have been brought to trial," he said.

Anti-corruption has been less effective due to the fact that the heads of anti-corruption committees in provinces and cities are the chairpersons of those provinces and cities, Mr.Cuong commented.

The PM responded that since the committees are newly established, more time is needed to make an accurate appraisal of their performance.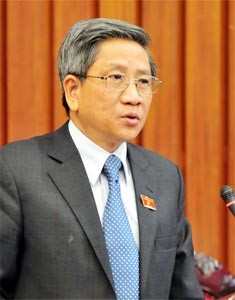 Deputy Nguyen Minh Thuyet poses questions to PM Nguyen Tan Dung at the NA session (Photo: SGGP) 
Nguyen Minh Thuyet of Lang Son Province pointed out that the corruption scandal in the East-West Highway Project in Ho Chi Minh City involving Japan's Pacific Consultants International and other similar cases revealed a trend of taking bribes from abroad and money laundering.

"What has the Government done to check such crimes?" Mr. Cuong asked.

The PM replied that Huynh Ngoc Si and some others involved in the scandal have been prosecuted and the Japanese have handed over documents to Vietnamese law-enforcement agencies to facilitate investigation.

"Someone asked me earlier why Vietnamese agencies do not use these documents as evidence for prosecution and I replied that Vietnamese laws do not allow it."  

The Central Steering Committee for Anti-Corruption, the Party, and State remain serious about every act of corruption and corruption cases must be handled objectively, thoroughly, and in accordance with the laws, he said.

"As the head of the committee, I acknowledge and am anxious that the handling of corruption cases has been done at a slow pace. Relevant agencies must improve their coordination so that corruption cases can be investigated and tried rapidly and efficiently."

Reviewing hydroelectric construction plans

Replying to questions raised by several lawmakers about the safety of hydroelectric plants, the PM said he has instructed concerned agencies to review their construction and operation norms.

Studies, assessment, and approval based on the revised criteria would be mandatory for each hydroelectric project, he added.

He said hydroelectric projects must achieve certain goals like supplying power and water, helping prevent floods, and protecting the environment.