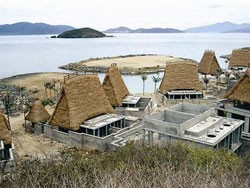 Uncompleted Rusalka Resort because of property appropriation by Nguyen Duc Chi
Prime Minister Nguyen Tan Dung has urged the Ministry of Public Security and other authorized agencies to promptly finish investigations and bring to court four major scandalous economic cases.
The four cases are the corruption scandal at the road and bridge building PMU 18; property appropriation by Nguyen Duc Chi from the Rusalka Resort project in the central province of Khanh Hoa; property fraud by Nguyen Lam Thai with involvement of local post offices; and the abuse of power and bribery related to government inspectors in projects of the Viet Nam Petroleum Corporation (PetroVietnam).
Involved in the corruption case at PMU 18 were former deputy transport minister Nguyen Viet Tien, Cao Ngoc Oanh, former deputy head of the General Department of Police, and some police officers.
The Prime Minister also ordered the final conclusions on Quach Le Thanh, former chief of the Government Inspectorate, and Tran Quoc Truong, former deputy head of the agency, who allegedly had some links with the case at PetroVietnam, be completed by September 20.
Besides, the police are investigating involvements of other government inspectors.