On January 8, comrade Truong Tan Sang, a Politburo member and Permanent Secretary of the Party Central Committee made a general inspection of the preparatory work for the 11th Party Congress in My Dinh international convention centre.
Comrade Sang highly appreciated the preparatory work and the logistical jobs done such as security, medical service etc. All preparations for the forthcoming Congress have now been completed.
The day before yesterday, the Party Central Committee had announced that it would hold the Eleventh Party Congress at the National Convention Center in Hanoi from January 12-19.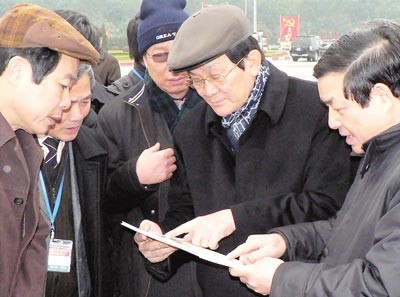 Comrade Truong Tan Sang ( second, L ) examines the preparatory work of 11th Party Congress in My Dinh international convention centre
A preparatory session will be held on January 11, according to a statement released on Wednesday at the end of a Party conference that opened on December 13.
Do Quy Doan, Vice Minister of Information and Telecommunication confirmed that so far more than 500 Vietnamese and 100 foreign reporters have registered to report on the event.
Pham Xuan Son, deputy head of the committee's external affairs division, said the Congress aimed to focus on continuing improvement to strengthen the Party and to push forward the reform process, laying the foundation for Vietnam to become a modern industrialized country by 2020. The Congress is also expected to adopt a five-year socio-economic strategy with a long-term vision until 2020.
He said the Party is also looking to have more young members join the new central committee. He believed the number of young people, women, ethnic minorities and scientists in the central committee would increase, with new members accounting for at least one-third of its total strength.
The 11th National Party Congress will take place in Hanoi from January 11 -19 with 1,400 participating delegates, representing more than 3.6 million Party members in 54,000 grassroots Party organizations.
Several parts of the event including the opening and closing sessions will be televised live.
Members of the Congress have been elected by their party colleagues at the provincial or central level. They will vote in a Central Committee of about 150 members, which will then elect the Politburo, the decision-making body of about 17 members. The Politburo subsequently assigns key posts amongst its members.