The Supreme People's Procuracy must continue to effectively implement the policies of the Party and State, enhance socialist legislation, ensure law enforcement and uphold the rule of law, President Trần Đại Quang said yesterday.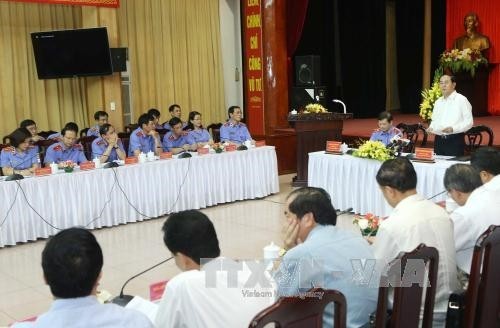 President Trần Đại Quang delivers speeech at a meeting with the Supreme People's Procuracy's key officials in Hà Nội yesterday. (Photo: VNA/VNS)
Speaking with the agency's key officials in Hà Nội, the President, who is also head of the Central Steering Committee for Judicial Reform, asked them to pay special attention to bettering the draft law on amendments and supplements to some articles of the Penal Code 2015 and related bills.
Judiciary sectors, including the Supreme People's Procuracy, ought to make greater efforts to combat corruption in the spirit of "no prohibited areas", he said, stressing the need to recover appropriated assets.
President Quang also hailed the sector's efforts in performing its assigned duties, saying they contributed to making judicial activities more effective.
The role and responsibility of prosecutors have been enhanced, while the time and quality of handling cases and the litigation skills of procurators have improved.
Activities by investigation agencies under the Supreme People's Procuracy were more and more effective, with 25 cases, including 19 relating to corruption, being prosecuted.