Among eight new laws, the legal position, responsibilities and authority of overseas Vietnamese embassies and consulates will be regulated for the first time, the State President Office announced Friday.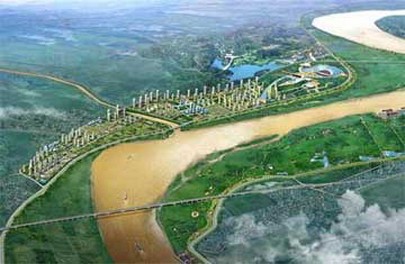 A piece of the Hong River City artificial model. The Hong River City project has been a matter of controversy between plan makers and scientists.
Regulations will include duties to improve political and social, security and defense, and cultural relations.
The regulations also rule their consul tasks, supporting and protecting Vietnamese community abroad and provide a unified approach to foreign affairs activities.
The special duty of the organizations is to support the nation's economic development, which has been part of their operations for sometime but had not been drawn up in law.
The law on urban planning was also announced.
The new rules state that local authorities must hold a referendum on an urban planning project within 30 days before planning is decided.
Under the new law on land and housing, Vietnamese living abroad, but who still retain their Vietnamese citizenship, will be eligible to buy and own houses in the country.
Those qualifying for such status include: investors, scientists, artistes, those who make significant contributions to the country's development, those who work in Vietnam and who have much needed professional skills and people who are married to Vietnamese citizens.
All of them must also be allowed to stay in Vietnam for at least three months.

Such overseas Vietnamese are allowed to buy unlimited numbers of houses and have full rights to sell, donate, lease out, exchange or leave the properties as legacies to local organizations, agencies or individuals.
They are also entitled to use the properties as collateral for loans.

When the properties are not in use, the owners can authorize others to live in or take care of them on their behalf.
In the adjusted law on management of public debt, debt guaranteed by the Government will be limited.
Companies must increase their responsibility for their debt. The Government's guarantee is only for the nation's major projects.
The law on films was also amended in order to meet WTO commitments. Under the adjustment, directors are not required to be Vietnamese citizens.