President Truong Tan Sang and his entourage arrived in Berlin at 6 pm (Vietnamese time) on November 24, beginning his three-day State visit to Germany at the invitation of German President Joachim Gauck.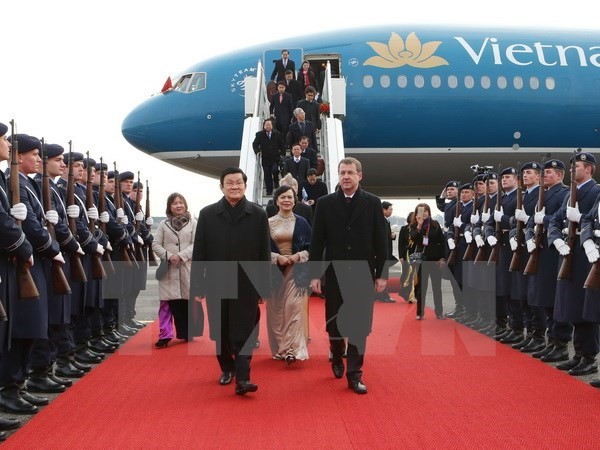 President Truong Tan Sang is welcomed at Tegel Airport (Source: VNA)
The Vietnamese leader was welcomed with a 21-gun salute at Tegel Airport by head of the Presidential Office of Germany David Gill, Deputy Chief of Protocol under Germany's Ministry of Foreign Affairs Konrad Arz Von Straussenburg, Vietnamese Ambassador Doan Xuan Hung, the Vietnamese Embassy's staff, and ambassadors and charge d'affairs of ASEAN countries in Germany.
Later the same day, the President met with representatives of the Vietnamese community in Germany, briefing them on the current socio-economic situation and policies in the homeland.
The leader highlighted the major achievements Vietnam has recorded after 30 years of renewal, saying the country has posted an annual growth rate of 6 percent and the economy is being structured towards industrialisation and modernisation.
Hailing the overseas Vietnamese's contributions to the homeland, President Truong Tan Sang reiterated that the Vietnamese community abroad is an integral part of the nation.
The Vietnamese Party and State pay due attention to caring and protecting the interests of overseas Vietnamese, the leader said, noting his hope that the Vietnamese in Germany will support each other and preserve traditional culture.
Representatives of the Vietnamese community in Germany expressed their hope that the Party and State will assist them to stabilise their lives and integrate into the host society.
The President later met with German friends during which he recalled the day the late President Ho Chi Minh laid the foundation for the solidarity and friendship between the two nations.
He thanked the German friends for their support for Vietnam during the struggle for liberation, saying Germany's assistance in personnel training has created an important basis for the thriving friendship.
The leader informed the German friends about the fruitful cooperation between the two countries in various areas, which, he said, has seen great contributions by the Vietnam Friendship Association in Germany, the Germany-Vietnam Friendship Association and German individuals.
He voiced his hope that the German friends will continue their support for Vietnam's national construction and development, as well as for the bilateral ties, for benefits and prosperity of the two countries' people, and for peace, independence, democracy and social progress.
President Truong Tan Sang's visit, the first ever made by a Vietnamese President to Germany since the country's unification, is concurrent with the 40th anniversary of diplomatic ties between the two countries.