State President Truong Tan Sang joined other leaders from some 100 Asian and African nations in a ceremony held on April 24 to mark 60 years of the Asian-African Conference 1955, or the Bandung Conference, in Indonesia's Bandung city.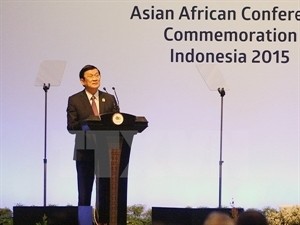 President Sang at the meeting
The leaders took a historic walk to the Merdeka Building – also known as the Independence Building – the same route the Asian-African leaders took at their first summit in 1955 to walk from their residences to the meeting venue.
At the ceremony in the Merdeka Building, where the Asian and African leaders gathered for the first time 60 years ago, the ten-point Bandung Declaration was highlighted for laying a solid foundation for the relationship among nations from the two continents.
Indonesian President Joko Widodo stressed that the declaration's value remains useful and the ten principles should continue to be respected.
He called for closer solidarity and cooperation between Asian and African nations for peace, prosperity and equality.
The participating leaders also watched a short film featuring the Bandung Conference and 60 years of the Asian-African Conference, including important changes in the world at large and developing Asian and African countries in particular.
After the ceremony, the leaders took part in the inaugural ceremony of the Asian-African Statue.
On the occasion, President Truong Tan Sang held a meeting with his Myanmar counterpart Thein Sein, during which he confirmed that Vietnam attaches importance to consolidating and enhancing its traditional friendship and close collaboration with Myanmar.
The Myanmar leader spoke highly of Vietnam's role in and positive contributions to ensuring peace and stability in the region and building the ASEAN Community.
Both expressed their delight at the positive developments in bilateral ties. Trade reached 475 million USD in 2014, a 35 percent surge from the previous year.
Vietnam is currently operating seven projects worth 513.18 million USD in Myanmar, ranking eighth among 33 nations and territories investing in the country.
They also agreed to coordinate in organising activities to celebrate the 40th anniversary of bilateral diplomatic ties (May 28, 1975 – May 28, 2015), and speed up the implementation of bilateral cooperation mechanisms.
President Thein Sein confirmed that Myanmar continues to create favourable conditions for Vietnamese enterprises and investment activities in the country.
The two leaders also reached a consensus on supporting each other at regional and international forums, especially in ASEAN and the United Nations.
The Vietnamese State leader also met former Indonesian President Megawati Sukarnoputri, who reiterated her support for the Vietnam-Indonesia strategic partnership.-VNA