President Nguyen Minh Triet on April 3 attended a ceremony marking the 45th anniversary of Ham Rong victory in the northern province of Thanh Hoa.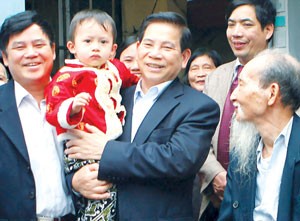 President Nguyen Minh Triet embraces a Thanh Hoa child during his working visit to the province on April 3 (Photo: Vietnam News Agency)
The Ham Rong victory marked a battle in Ham Rong on April 3-4, 1965 where Thanh Hoa people and soldiers shot down 47 US aircrafts to ensure safety for transporters of goods and arms through Ham Rong Bridge to the South during the Vietnam War.
Speaking at the ceremony, President Triet affirmed that the Ham Rong victory was significant to the nation's resistance war to gain independence.
"Not only the pride of Thanh Hoa people, the Ham Rong victory is also the triumph of the people's war tactics and the Vietnamese people's staunchness, firmness and intelligence, contributing to the Great Spring Victory to liberate the South and reunify the country," emphasized the President.
Following the celebration, he visited the Bim Son Cement Joint Stock Company and called on the family of Le Thi Kim Dung, who sacrificed her life in Nam Ngan-Ham Rong battle, and the family of Le Tho Dat, a former militiaman at Nam Ngan-Ham Rong battle.